25 Years of Celebrity Hair Fashion
Over the past 25 years hair styles have changed rapidly. From the 90's 'Rachel' made famous by Jennifer Aniston on the sitcom Friends to Victoria Beckham's millennium influential bob. Women all over the world have gone to great lengths to perfect their favourite hairstyle, and it's more often than not, the stars they look to for inspiration.
The cropped rock-star hair quiff has become amazingly popular since Rihanna and Ruby Rose walked the red carpets with their powerful new dos. And, from pixie short to long thick manes, luscious lengthy extensions have been showcased by Lady Gaga and Miley Cyrus. Along with style, comes colour. From platinum blondes, recently bordering on grey, to deep reds, and pastel colored highlights, hair colour plays just as important a role as getting the right hair style.
The Hair Expo Australia is on at the Sydney Convention & Exhibition Centre, Darling Harbour from June 12th-14th.
www.hairexpoaustralia.com
Interview with Caterina Dibiase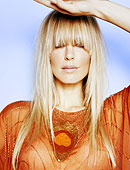 Caterina Dibiase is the current Australian Hairdresser of the Year.How has celebrity hair fashion changed over the past 25 years?
Caterina Dibiase
: Celebrity hair fashion has changed in the sense that it has become more influential over the past 25 years. Our clients are really wanting us to create for them their own 'celebrity style' look. I think the driver of celebrity style becoming more influential is the constant access we all have to the internet, magazines, TV and movies.
\Who do you believe has been the number one most influential celebrity in regards to hairstyle over the past 25 years?
Caterina Dibiase
: I would have to say Princess Diana has been the most influential. Princess Diana had such a classic, beautiful elegant style that was requested time after time.
Have you ever changed your hair to mimic a celebrity's style?
Caterina Dibiase
: No I haven't. The golden rule with celebrity hairstyles is that not all celeb styles suit everyone and you must be careful about selecting a style that suits your lifestyle and face shape.
How often are celebrity hairstyles the inspiration for Australian's hair cuts?
Caterina Dibiase
: Quite often and it's not just celebrity haircuts, we have clients that come into our salons that have pictures of trends from the catwalk and hair images from around the globe that they are requesting.
Do Australian's still want to copy past celebrity hairstyles, such as the 'Rachel'?
Caterina Dibiase
: We do have clients that refer to certain past celebrity hairstyles or a style that they had years ago that worked particularly well for them and what we try to do is adapt that particular style to fit with the current trends.
Why do you believe hair extensions have become so popular?
Caterina Dibiase
: Celebrities, celebrities, celebrities - Paris Hilton, Victoria Beckham, and the list is endless. One day they are photographed with shorter hair and the next at an event with long glossy locks.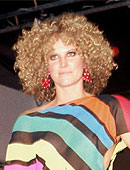 Which is the best and safest way to attach hair extensions?
Caterina Dibiase
: This really depends if you are looking at permanent hair extensions or clip on hair extensions as there are different extensions for different hair types. Always best to visit your hairdresser to ensure the hair extensions are attached the right way and to achieve the perfect look.
Who is your number one celebrity hair inspiration?
Caterina Dibiase
: I would have to say at that moment that it is Agyness Dean, her textured blonde bob is a hot look and I love the way she is always changing her style.
What are some of the latest hairstyles that we should be looking at recreating this year?
Caterina Dibiase
: Definitely Mia Wasikowska's style - her short textured feminine pixi crop style and also Rihanna for her hard edged, glamorous, rock chick look. In terms of the latest colour - Gisele's hair with the balayage colour technique is hot and that particular colouring techinque is making a big comeback this season.
What is hair tattooing?
Caterina Dibiase
: Hair tattooing is when you carve designs into short hair and side burns. It seems to be one of the newest crazes in expressing style. This style does not suit everyone however looks really great on sporty types and individuals that have the attitude to wear the style well.
Interview by Brooke Hunter and Karli Smith.