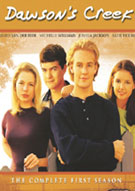 DAWSON'S CREEK: THE COMPLETE FIRST SEASON

RELEASE DATE: 11 JUNE 2003 / Rated: PG

Now available exclusively on a four-disc set DVD is the complete first season from the smash-hit television series Dawson's Creek. Boasting a teen-hearthrob cast including James Van Der Beek, Katie Holmes and Joshua Jackson, this must-have collectible not only contains 13 heart-warming, absorbing episodes, but comes enhanced with great extra features including audio commentaries and behind-the-scenes featurettes.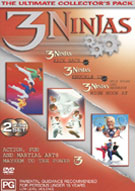 3 NINJAS ULTIMATE COLLECTOR'S PACK

RELEASE DATE: 11 JUNE 2003 / Rated: PG

Together for the first time on DVD comes the hit action series that really packs a punch! Relive the hilarious hijinx of Colt, Rocky and Tum Tum in 3 Ninjas Kick Back, 3 Ninjas Knuckle Up and 3 Ninjas High Noon at Mega Mountain. Three movies on two discs and each movie comes complete with an interactive DVD-Rom game and bonus movie trailers, meaning you get bonus action, bonus fun and stacks of martial arts mayhem!





COWBOY BEBOP

RELEASE DATE: 11 JUNE 2003 / Rated: M15+

The anime event of 2003 has arrived! Hot from its Australian cinema release comes the movie of the cult smash-hit series from Japan that is cool, funky and oozing with spectacular sci-fi adventures! Spike Spiegel, Jet Black, Edward, Faye Valentine and Ein the dog are the "cowboys" who hunt the low-lifes and scumbags of the galaxy in their ship, the "Bebop".

Whether you are a fan of anime or a DVD enthusiast, this is sure to be a collectible DVD. Fully loaded with extra features including six behind-the-scenes featurettes on the making of the movie, character profiles, two rockin' music videos, conceptual art photo gallery, storyboard to final film comparisons, bonus movie trailers and original movie trailers, this is one explosively fun DVD not to be missed!