A Golden Ticket to meet Tim Burton
The Australian Centre for the Moving Image (ACMI) is hosting acclaimed filmmaker and artist Tim Burton for the opening of an exhibition of his works in June and is seeking young Australians to be Tour Guides, which also includes the opportunity to meet the man himself.
ACMI's 'Tim Burton Tour Guide' opportunity is open to under 18's across Australia and applications must come in the form of 3 minute videos.
Successful applicants will meet Tim Burton, be inducted by ACMI staff, hear from curators about how he created his art and films, and then take the public on a tour of the exhibition on at least one occasion. ACMI Screen Events Manager, Helen Simondson, says that applicants should be inventive but also remember that if successful they will have to hold a tour of the exhibition.
"We want young people to get creative and display enthusiasm and confidence, but we also want them to remember that the best tour guides are informative, interesting and able to speak well on their subject," said Helen. "We need to see that you have the skills to be a fantastic tour guide."
Knowledge of Tim Burton's art and films is essential and so, to help budding tour guides, ACMI has supplied a fact sheet of resources on its website.
The application form is available online and must be submitted complete with a link to the YouTube location of the 3 minute application video. Applications must be received by Friday 21 May and will be judged by panel of ACMI staff who will make the final selection and notify successful applicants. It is important both applicants and their parent or guardian read the Application Guidelines before applying. Key in these is that applicants and their guardians must be available to meet Tim Burton in the week commencing Monday 22 June and conduct at least one tour. Each tour will be designed by ACMI staff in consultation with the successful applicant. Successful applicants will take part in a voluntary capacity.
The exhibition, Tim Burton, explores the full scale of Burton's career, as director, concept artist illustrator and photographer, through hundreds of artworks that spectacularly illuminate the creative vision behind films such as Beetlejuice, Batman, Edward Scissorhands, Charlie and the Chocolate Factory, and Alice in Wonderland.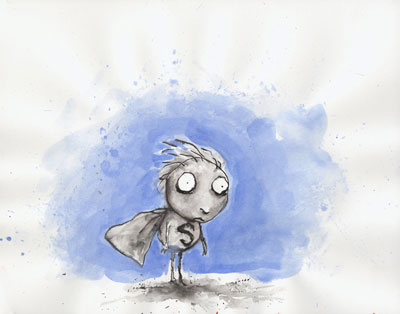 Tracing Burton's visual imagination from his earliest childhood drawings through his mature work in film, the exhibition brings together over 700 examples of rarely or never-before-seen drawings, paintings, photographs, storyboards, moving-image works, puppets, maquettes, costumes, and cinematic ephemera, and includes an extensive film series spanning his 27-year career.
The exhibition will be accompanied by a program of live events, film screenings, workshops and tours. Direct from New York's Museum of Modern Art, Tim Burton is presented as part of Melbourne Winter Masterpieces 2010 and follows ACMI's blockbuster exhibitions Pixar: 20 Years of Animation and Game On.
Tim Burton opens on 24 June and will run until 10 October 2010 at the Australian Centre for the Moving Image in Melbourne.
Applications for 'Tim Burton Tour Guide' close Friday 21 May 2010. For more information, the application form and guidelines, please visit:
www.acmi.net.au/burton_tour_guide
Interview with Helen Simondson
Helen Simondson, the ACMI Screen Events Manager, is recruiting for the Tim Burton Tour Guide opportunity.
Can you tell us a little bit about tour guide opportunity you are recruiting for at the moment?
Helen Simondson
: Yes, absolutely. At ACMI we have a Tim Burton exhibition coming at the end of June which is a really remarkable exhibition of his work, as a film maker and work as an artist. What we decided was, that we would be really interested in getting tour guides that were from a younger demographic so that the public would have an opportunity to see the exhibition through the eyes of a young person, rather than the normal type of tour guide process, which is a little old and crusty at sometimes. We are lucky enough to have Tim Burton come with the exhibition, in the week before the exhibition opens. We spoke to Burton about the idea of having Tim Burton tour guides, that weren't the usual curators, but something different; together it was decided that they had to be under 18, which means it could be a 16 or 17 year old or it could be a 9 or 10 year old, and a Burton fan who could take a tour through the exhibition. Tim really loved the idea of Burton fans; he though it was fantastic and agreed that it would be great for the successful tour guides to meet with him, during the week that he is in Melbourne.
So, we sent out a call to the public to see if there were people who were Burton fans and who would love to spend some time with Burton by pitching to become a tour guide. It is about getting tour guides who can take a public tour and talk through the exhibition whilst also having the chance to meet with Tim. These tour guides will provide a really interest insight into the exhibition that can be passed onto the public.
ACMI is looking for someone under the age of 18 who knows about Tim Burton, is there any other prerequisites needed?
Helen Simondson
: We decided on a video piece because we didn't want it to just be 'I want to meet Burton', it needed to be a video pitch because at the end of the day the applicant needs to be confident enough to take the tour. Throughout the exhibition there are public tours, which will be taken by the young Burton tour guides. The tours will start from July through to October on a series of weekends.
Have you had a lot of applications?
Helen Simondson
: It has had a really good response, so far. We are really looking forward to seeing who else is out there.
So the application process is a three minute video that is then uploaded to YouTube?
Helen Simondson
: Yes, that way they have the freedom to lodge the application themselves, it makes the process easy as everyone knows how to load up to YouTube and they're comfortable with that. We then get sent the link and we can see the applications and go into a short listing process to determine the tour guides.
Are there multiple tour guide opportunities?
Helen Simondson
: It's not just one tour guide, we are actually looking for up to eight. We are looking at a combination of anything between two to eight tour guides.
Do all successful tour guides have the opportunity to meet with Tim Burton?
Helen Simondson
: Yes, we do that as a group.
Can you apply if you are based in other states, other than Victoria?
Helen Simondson
: Yes, if that means someone comes from interstate and they are selected., we cover travel and accommodation and all other travel associated costs for them, to get here and meet with Tim Burton. Again, these costs would be covered around the interview.
How did you come up with the idea to have young people apply for the position of a tour guide?
Helen Simondson
: To be honest, on YouTube we found a girl, who was no older than 12, who created a tour of an exhibition in New Zealand and loaded it up on YouTube. We found it and saw this hilarious girl who talked about her father forcing her to come to the exhibition. She was fantastic, she interviewed other people and it showed there was talent out there. It tells you that a 10 to 12 year old can do it and maybe we will find ourselves with a very interesting age range. A whole generation has grown up with Burton and our goal is to show the exhibition from the generation who grew up with Burton's material. It will be very different from the normal process that curators normally do; the curators do a fantastic job but this does mean there is an interesting perspective on the exhibition.