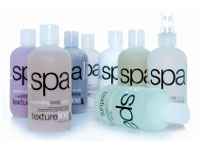 PERFECTING BODY SCRUB
Perfecting body scrub features a combination of corncob meal and loofah, which both revitalise the skin by exfoliating dead skin cells and improving circulation. Perfecting body scrub is not a harsh exfoliator, it is extremely gentle on the skin, a luxurious scrub that leaves your skin simply glowing. It marries the essential oils of rosemary and peppermint. Rosemary oil tightens and tones tissue and stimulates cell renewal once the dead skill cells have been removed. Peppermint oil leaves the skin feeling clean and soft and clears respiration. Price: $26.25
Beauty Consultant's Note:
If you like rosemary and peppermint you will love this, it's one of the most gentle scrubs I've ever used.
RELAXING BODY WASH
Passionflower extract, lavender oil, cedarwood oil, bergamot oil and kelp extract are the key pure essential ingredients that make up relaxingbodywash. The calming floral aroma of passionflower reduces stress and tension while lavender, cedarwood and bergamot oil feature healing and soothing properties and reduce anxiety and stress. Both cedarwood and lavender oil are also known to clear respiration and kelp extract deeply moisturizes the skin.Price: $20.85
Beauty Consultant's Note:
Sink your body into this one, yummy! The passionflower aroma is delicious.
INVIGORATING BODY WASH
A refreshing bath and shower gel, boasting grapefruit oil, lemon oil, silverfir oil and kelp extract. Both grapefruit and lemon oil is renowned for having mood uplifting, refreshing, energizing and purifying properties. While Kelp extract has a deep penetrating moisturizing and healing property. Price: $20.85
Beauty Consultant's Note:
The citrus aroma gives a real kick which is uplifting.
BALANCING BODY WASH
Features essential oils such as geranium and ylang ylang. Ylang ylang oil is famous for its calming and mood-uplifting properties, and it has the most divine sweet, sensual fragrance that undoubtedly enhances your shower and bath experience. Price: $20.85
Beauty Consultant's Note:
Got to be a favorite, the ylang ylang aroma settles, giving you that time out feeling that puts you back in control.
NOURISHING BODY CREAM
A deep moisturising hand and body creme that nourishes, restores and conditions moisture deprived skin. It has a rich fragrance derived from pure essential oils including mandarin, bergamot, chamomile, rosewood and jasmine. Bergamot oil reduces anxiety, nervous tension and stress, while chamomile calms and rosewood enhances vitality. It also features shea butter, which gives it a thick, velvety consistency and is conditioning to the skin.
Beauty Consultant's Note:
Strong scent of rosewood and chamomile, with a thick creamy texture the dissolves into the skin instantly leaving it feeling soft and supple. Price: $26.25