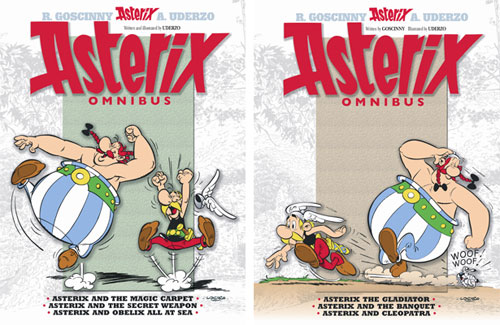 Asterix Omnibus III
The fabulous Asterix books are back in a special collector's edition of three Asterix stories in one amazing volume!

Asterix Omnibus III
In Asterix The Gladiator, the Roman capture Cacofonix as a gift for Caesar who plans to throw him to the lions. To rescue their bard, Asterix and Obelix have to become gladiators.

In Asterix and the Banquet, the Romans build a barricade around the village. So Asterix and Obelix demonstrate their resistance by going on a journey around the entire country, collecting local specialties on the way.

Asterix, Obelix and Co. visit Egypt in Asterix and Cleopatra, where they are entranced by the Sphinx, the pyramids and Cleopatra's nose.

Asterix Omnibus III
Hachette Children's Books
Authors: Rene Goscinny and Albert Uderzo
Price: $35.00



Asterix Omnibus IV
The fabulous Asterix books are back in a special collector's edition of three Asterix stories in one amazing volume!

In Asterix and the Magic Carpet, Cacofonix's awful singing voice comes to rescue of the lovely Princess Orinjade, who is about to be sacrificed by the guru Hoodunnit.

In Asterix and the Secret Weapon, Caesar has unleashed a troop of female legionaries, relying on the chivalrous Gauls not to fight women. But Asterix and Co. have a trick up their sleeve- Bravura, the female bard.

In Asterix and Obelix All At Sea, Obelix is first turned to stone and then reverts to childhood as punishment for drinking the druid Getafix's magic potions. In search for a cure for him, Asterix and friends sail to the wonderful continent of Atlantis, ruled by its high priest Absolutlifabulos

Asterix Omnibus IV
Hachette Children's Books
Authors: Rene Goscinny and Albert Uderzo
Price: $35.00


Review: A collection of entertaining cartoons, this is a great coffee table, play room books to get everyone reading. A must in any family home.