KERI RUSSELL INTERVIEW on BEDTIME STORIES
QUESTION: How do you cope with being an actress, a wife and a young mum?
KERI RUSSELL: Just day by day. It's like anyone with a career, there are compromises and you try to do your best each day. There are harder months. This is a harder month because I am away from home, travelling on the road a lot. But the next month I will not work at all, so there are give and takes.
QUESTION: Where is home?
KERI RUSSELL: My husband is a carpenter and we bought the cheapest Brownstone in Brooklyn and he ripped it apart and renovated it. He has done a beautiful job, doing everything from the roof to the floorboards. He even made furniture for the house, he's very gifted. When we were first dating he made me a little jewellery box. He comes from Martha's Vineyard and he carved an illustration of that on the box. It's very sweet.
QUESTION: What is the special thing about him?
ADAM SANDLER: He is just great. He is so normal and easy and he has done a great job about controlling his environment. He is very specific about it. He comes off like everything is very casual but he is very specific about things. Everyone who works with him are friends from college. He surrounds himself with people with whom he is very comfortable and that's how the set is. I am glad I fit into that group.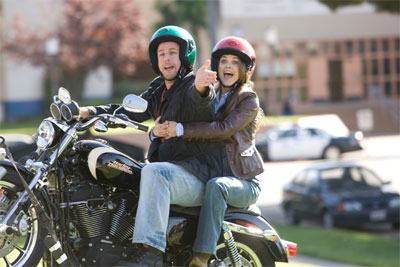 QUESTION: The film suggests that parents should be wary of becoming over protective. What do you think?
KERI RUSSELL: Everyone has to do what they are going to do. Kids end up doing what they want. Adam is so sweet in this movie. I think it really shows who Adam really is. It was nice partnering him and Disney. It has brought out this charming vulnerability in Adam.
QUESTION: Is parenthood going to affect our career choices?
KERI RUSSELL: I'm sure it trickles into the thought process. But I am still interested in what I am interested it; it is not the sole deciding factor. But in watching Bedtime Stories for the first time in California - I saw it in an audience full of laughing kids. Afterwards Adam and I talked about it and we were almost crying because it makes you feel so good. So it is more on your radar than before you have kids.
QUESTION: Where do you keep the Golden Globe for Felicity?
KERI USSELL: I don't know where it is. We just moved into our house so it is probably in a box somewhere. We will find it eventually.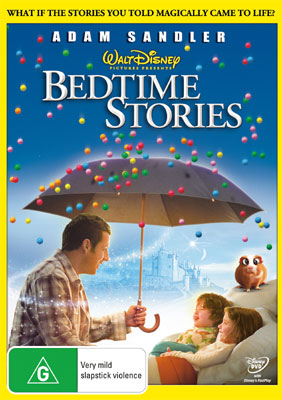 Bedtime Stories
Starring
: Adam Sandler, Keri Russell, Guy Pearce, Russell Brand, Courteney Cox, Carmen Electra
Director
: Adam Shankman
Producers
: Jack Giarraputo, Andrew Gunn, Adam Sandler
Rated
: G
Running time
: 95 Minutes
Gumballs falling from the sky...
Bedtime Stories will never be the same again!
Snuggle up under the covers and watch all the fun when Skeeter Bronson (ADAM SANDLER) takes his niece and nephew on hilarious nightly escapades with the release of the Number One Family Comedy of the Year - BEDTIME STORIES on Disney DVD and 2-Disc Disney Blu-rayTM Combo Pack, which includes a Blu-ray Disc plus a DVD copy of the film in a single package, from 3 June 2009.
Hotel handyman Skeeter Bronson (ADAM SANDLER) has hotel management in his blood. Raised by his father Marty (JONATHAN PRICE) with his sister Wendy in the family motel, Skeeter it seems is destined to take over the family business that he loves with all his heart.
However when Marty can no longer afford to maintain the motel, he sells out to hotel tycoon Barry Nottingham (RICHARD GRIFFITHS) with one provision. Once Skeeter is old enough, he would take over management of the hotel.
Years later we find Skeeter working at the same Hotel but not as the manager, but as the janitor and handyman. Skeeter still holds out hope that he will be rightfully made manager, but when Nottingham announces his future son-in-law and Skeeter's sworn adversary Kendall (GUY PIERCE) as the new manager of a massive new hotel complex, Skeeter is shattered.
Meanwhile Skeeter's serious sister Wendy (COURTNEY COX) has to go out of town for a few days, and in desperation, asks Skeeter to assist her friend Jill (KERRI RUSSELL) to care for her two children, Patrick (JOHNATHAN MORGAN HEIT) and Bobbi (LAURA ANNE KESLING), and their lovable pet hamster.
Having never spent much time with his nephew and niece, Skeeter begins to tell them outlandish bedtime stories. The children soon begin to assist in the story telling, and as they do, the BEDTIME STORIES begin to come true.
Can Skeeter control the stories to help him defeat his sworn enemy Kendell (GUY PEARCE) and win his dream job of managing the new hotel, and the heart of Nottingham's glamorous daughter (Australian starlet TERESA PALMER)? Will Skeeter see that Jill is the one true love for him? Or will Skeeter be the victim of his niece and nephews fantastic imaginations?
Directed by ADAM SHANKMAN (Hairspray, The Wedding Planner) and with a brilliant cameo from English comedian RUSSELL BRAND, BEDTIME STORIES is a hysterical journey the whole family will fall in love with.
BEDTIME STORIES, available on Disney DVD and 2-Disc Blu-ray Combo Pack, is jam-packed full of hysterical bonus features including hilarious outtakes, bloopers and behind-the-scenes interviews and special features.
Don't miss your chance to bring home BEDTIME STORIES, the Number One Family Comedy of 2009!
Special Features
Enhanced With Disney Fast Play
* Until Gravity Do Us Part
* To All The Little People
* It's Bugsy
* Laughter Is Contagious: Outtakes
* Cutting Room Floor: Deleted Scenes
Available to own on DVD: 3 June 2009
Order Now from Chaos
Order Now from Sanity