Skin, meet seaweed. The new wave of eco-friendly, ultra-soft fabrics takes its cues from the ocean and forest, with seaweed and wood pulp being used to create luxurious wardrobe basics.
Australian lifestyle fashion and homewares brand Blue Illusion is leading the way locally,adding T-shirts containing seaweed and wood pulp to its seasonal apparel collections.
Almost 50 per cent of fibre in each T-shirt ismade from a seaweed or wood pulp-basedfibre. The garments are made from a blend ofpatented compound SeaCell, which containsseaweed, wood pulp derivative Lyocell, cotton,and elastane. Lyocell is sustainably producedand biodegradable.
The Vitamins A and E and amino acids in seaweed can promote skinhealing and reduce inflammation.
Fashion's seaweed movement follows a strong trend towards usingbamboo to increase softness and reduce environmental impact. BlueIllusion has also introduced bamboo-based shorts for summer 08/09.Blue Illusion's T-shirts containing seaweed are available in two subtle,yet distinctive designs and sold in packs of two for $59.95.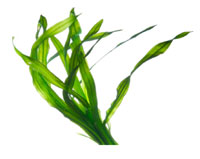 SeaCell® pure:
- Is produced using cellulose and seaweed as renewable resources
- Has demonstrated skin-friendly properties
- The seaweed component contains carbohydrates, amino acids,fats and vitamins
- In the humid environment of the skin surface, has beendemonstrated as being able to release its active ingredients
Lyocell:
- Is made from cellulose found in wood pulp
- Is biodegradable
- Is produced via an advanced 'closed loop' solvent spinningprocess, with minimal impact on the environment and economicaluse of energy and water
More information on SeaCell can be found at www.smartfiber.de.