Brad Pitt Profile & Interviews
Brad Pitt was born in Shawnee, Oklahoma to Jane Etta (nee Hillhouse), a high school counselor, and William Alvin Pitt, a truck company owner. Along with his brother Doug and sister Julie Neal, he grew up in Springfield, Missouri, where the family moved soon after his birth. He attended Kickapoo High School, where he was involved in sports, debating, student government, and acting. He attended the Missouri School of Journalism at the University of Missouri - Columbia where he was a member of Sigma Chi fraternity.

In 1987, Brad Pitt arrived in Beverly Hills, California. He first appeared in the sitcom 'Head Of The Class', for a while dating the show's star Robin Givens. He also guest starred in two episodes of Growing Pains. Brad Pitt appeared as Chris in the long-running soap Another World. While auditioning for the show Our House, he was asked to read for another part, and found himself playing Shalane McCall's boyfriend Charles on the daytime soap Dallas. He also had a number of roles in prime-time series, such as thirtysomething, 21 Jump Street, and Freddy's Nightmares. Brad Pitt appeared uncredited in both Less Than Zero and Charlie Sheen's No Man's Land before appearing in Cutting Class, about a maniac stalking cheerleaders. He began dating co-star Jill Schoelen.

In 1988, Brad Pitt had his first starring role, in Dark Side Of The Sun, where he played a young American taken by his family to the Adriatic to find a remedy for a skin condition. The movie was shot in Yugoslavia in the summer of '88 with Brad Pitt being paid $1,523 a week for seven weeks. However, with editing nearly complete, war broke out and much of the film was lost. The film was released years later. Brad Pitt won a part in the TV movie Too Young to Die?, about an abused teenager given the death penalty for murder. Brad Pitt played the part of a drug addict, Silly Canton, who took advantage of runaway Juliette Lewis, who Brad Pitt began dating in real life. The pair would be together for three years.

In 1991, Brad Pitt starred as Joe Maloney in Across the Tracks in which he portrayed a high school runner with a difficult criminal brother played by Ricky Schroder. Brad Pitt attracted broader public attention from a supporting role in Thelma & Louise where he played a small time criminal drifter in a love scene with Geena Davis.

After Thelma and Louise, Brad Pitt starred in the low budget 1991 film Johnny Suede as an awkward dreamer who aspired to be a big-haired rock star alongside Catherine Keener and Nick Cave, directed by Tom DiCillo. Brad Pitt had agreed to play the part before Thelma & Louise was released. After appearing in Cool World, Brad Pitt starred in Robert Redford's A River Runs Through It in 1992, for which Brad Pitt learned fly fishing by casting off of Hollywood buildings. Then came Kalifornia in 1993, a road movie in which he played a scruffy serial killer alongside his then girlfriend Juliette Lewis and X-Files actor David Duchovny.

In 1994, Brad Pitt played vampire Louis de Pointe du Lac in the movie adaptation of Anne Rice's novel Interview With The Vampire. Brad Pitt played the eighteenth century vampire which required several hours work in make-up on set to achieve the white skin of the character and he had to wear a pair of luminous green eyes, vampire fangs and a shoulder-length hairpiece to complete the appearance. Brad Pitt worked with the eleven-year-old Kirsten Dunst, as well as Tom Cruise, Christian Slater and Antonio Banderas. He then starred in Legends of the Fall and Se7en. In Se7en Brad Pitt starred as the police detective David Mills alongside Morgan Freeman in the hunt for a serial killer played by Kevin Spacey.

Brad Pitt was then nominated for an Academy Award as Best Supporting Actor for his portrayal of Jeffrey Goines in the 1995 film Twelve Monkeys in which he acted alongside Bruce Willis. In 1997 Brad Pitt played the IRA terrorist Rory Devany in The Devil's Own alongside Harrison Ford, the first of several films where he has acted using an Irish accent.

That same year he played the main role of Austrian mountaineer Heinrich Harrer in the Jean Jacques Annaud film Seven Years in Tibet. Brad Pitt trained for months for the role which demanded a great deal of trekking and mountain climbing, working out with co-star English actor David Thewlis by rock climbing in California and the Alps. Due to the themes of Tibetan nationalism in the film, the Chinese government banned Brad Pitt and Thewlis from China for life. In 1998, Brad Pitt starred as the main character in the film Meet Joe Black. Brad Pitt starred as a personification of Death inhabiting the body of a young man in order to learn what it is like to be human while informing a billionaire tycoon that his life on Earth is nearly over. The film gave Brad Pitt another chance to work alongside Welsh actor Sir Anthony Hopkins whom he had previously worked with in Legends of the Fall.

In 1999, Brad Pitt starred in Fight Club, based on the novel by Chuck Palahniuk. Working with his previous director whom he had worked with on Se7en Brad Pitt portrayed the character of Tyler Durden, a highly colorful and complex character.

In 2000 Brad Pitt played the role of Mickey, a gypsy Irish boxer in the gangster movie Snatch alongside Vinnie Jones and Benicio del Toro. The film was a wild caper involving a diamond heist, Russian and American mafia and the shady underground world, that saw Brad Pitt brought in as a ringer by two failing promoters. The movie saw him moving on from his attempt at the conventional Devil's Own Northern Irish accent, and perhaps inspired by his co-star Benicio del Toro's recent performance in The Usual Suspects, Brad Pitt created a just-barely-intelligible accent suggesting the Irish Gypsies, referred to as Pikeys in the movie. Brad Pitt continued to train for the role, and honed his boxing skills at Ricky English's gym in Watford.

2000s: Ascension to the A-list
After his wedding to Friends actress Jennifer Aniston on July 29, 2000, he immediately began filming for Spy Game, a Cold War thriller in which he starred alongside veteran actor and look-alike Robert Redford playing the role of his mentor. In 2001 Brad Pitt worked with long-term friend and actress Julia Roberts in the comical road movie The Mexican. At the end of the year, Brad Pitt finished filming Ocean's Eleven with George Clooney and Matt Damon, a remake of the 1960s version which starred Frank Sinatra.

Brad Pitt at the Incirlik hospital, Incirlik Air BaseSince then, he has starred in numerous films, including Ocean's Twelve and the epic Troy, based on the Iliad, in which he portrayed the legendary hero Achilles. Ironically, during the production of Troy, Brad Pitt tore his Achilles tendon, delaying production for several weeks.

In 2005, Brad Pitt starred in Mr. & Mrs. Smith, in which he and Angelina Jolie played husband and wife assassins.

In March 2006, it was announced that Paramount had purchased the rights to The Sparrow for Brad Pitt's production company, Plan B, and that Brad Pitt would be playing the lead role of Sandoz. In June 2006 it was announced that Paramount and Plan B will be working on a new zombie film called World War Z, based on the book of the same name by Max Brooks.

Brad Pitt made his return to Hollywood in late 2006, with Alejandro González Iñárritu's critically acclaimed Babel, starring alongside Cate Blanchett. The movie garnered a total of seven Academy Award and Golden Globe nominations, one of which was a Golden Globe nomination for Brad Pitt as Best Supporting Actor in a Motion Picture. The movie has since become Brad Pitt's highest grossing drama.

In 2007, Brad Pitt was listed among Time Magazine's 100 Most Influential People in The World. He was listed among artists and entertainers, and was credited with using "his star power to get people to look at places and stories that cameras don't usually catch."

Relationships:
In 1998, Brad Pitt met Friends actress Jennifer Aniston and married her at an enclosed wedding ceremony in Malibu on July 29, 2000. The couple were adamant that the ceremony would be a private affair and hired hundreds of guards to block out any attempts of invasion by the paparazzi. Only one media picture was ever released of the wedding. Not long after the wedding, Brad Pitt sued Damiani International, the company which made the wedding ring he gave Jennifer Aniston, for selling replica "Brad and Jennifer" rings. According to Brad Pitt, the ring was his design and was to be exclusive. Under the settlement reached in January 2002, Brad Pitt would design jewelry for Damiani that Aniston would model in ads, and the company would stop selling the copies.

Though their marriage was, for years, considered the rare Hollywood success, rumors of trouble began circulating, and the Pitts announced their separation on January 7, 2005.

Speculation of a relationship between the two began to be confirmed with the first private paparazzi photos of Angelina Jolie and Brad Pitt emerged April 9, 2005 (and were reportedly bought for $500,000). They showed Brad Pitt, Angelina Jolie and her son Maddox at a beach in Kenya. During the summer, the pair were seen together with increasing frequency, and the entertainment media dubbed the couple "Brangelina". Two months later, the highly-anticipated July 2005 issue of W magazine hit newsstands, featuring Brad Pitt and Angelina Jolie posed as a married couple.

In July 2005 he accompanied Angelina Jolie to Ethiopia, where Angelina Jolie adopted a six-month-old girl named Zahara; later Angelina Jolie indicated that she and Brad Pitt made the decision to adopt the girl together. In December 2005 it was confirmed that Brad Pitt was seeking to legally adopt Angelina Jolie's two children as his (as part of legal requirements), classified advertisements in the Los Angeles paper Daily Commerce announcing the name change request. On January 19, 2006, a judge in California approved this request. The children's legal surnames were formally changed to "Jolie-Pitt". During a charity trip to Haiti with Wyclef Jean, rumors began to circulate that Angelina Jolie was pregnant. On January 11, 2006 Angelina Jolie confirmed to People magazine that she was pregnant with Brad Pitt's child. On May 27, 2006, Angelina Jolie gave birth to a daughter, named Shiloh Nouvel Jolie-Pitt, at the Cottage Medi-Clinic Hospital in Swakopmund, Namibia by the couple's Los Angeles obstetrician, assisted by local staff. Brad Pitt confirmed that their newborn daughter would have a Namibian passport. Public interest in the child was immense.

In an August 2006 survey, 41 percent of participating 18 to 24-year-old American adults correctly identified that the couple had named their baby Shiloh. Angelina Jolie decided to offer the first pictures of Shiloh through the distributor Getty Images herself, rather than allowing paparazzi to take these extremely valuable snapshots. People magazine paid more than $4.1 million for the North American rights, while British magazine Hello! obtained the international rights for roughly $3.5 million; the total rights sale earned up to $10 million worldwide - the most expensive celebrity image of all time. Angelina Jolie and Brad Pitt donated all the earnings to an undisclosed charity. On July 26, 2006 Madame Tussauds of New York unveiled a wax figure of two-month-old Shiloh; it is the first infant re-created in wax by Madame Tussauds.

Brad Pitt and Angelina Jolie are not married. In 2006, Brad Pitt said, "Angie and I will consider tying the knot when everyone else in the country who wants to be married is legally able."

The Jolie-Pitt children
Maddox "Mad" Chivan Jolie-Pitt (originally Rath Vibol)
Born on August 5, 2001; adopted at 7 months old on March 10, 2002. He was in Cambodia and initially lived in a local orphanage in Battambang. Maddox's name is Celtic in origin, usually translated as "beneficent." His middle name is Khmer for "life" and is shared with a member of the Cambodian royal family, Prince Sisowath Chivan Monirak. Maddox has gained considerable celebrity in his own right, and his adoption is often credited with sparking the celebrity adoption trend of the 2000s. He appears regularly in the tabloid media, was named the "cutest celebrity kid" and he is known for this Mohawk hairstyle.

Pax Thien Jolie-Pitt (originally Pham Quang Sang)
Born on November 29, 2003. On March 2, 2007, Vu Duc Long (head of Vietnam's international adoption department) confirmed that Angelina Jolie had filed papers to adopt a child from Vietnam. On March 16, 2007, Angelina Jolie went to Vietnam (with Maddox) to get her new son. Since the Vietnam orphanage does not allow unmarried couples to adopt, Angelina Jolie adopted Pax as a single parent.

Zahara "Zee" Marley Jolie-Pitt (originally Tena Adam)
Born on January 8, 2005; adopted at 6 months old on July 6, 2005. She was orphaned when her mother died of AIDS. Angelina Jolie adopted her from Wide Horizons For Children orphanage in Addis Ababa. Shortly after they returned to the United States, Zahara spent time in a hospital for salmonella-intestinal infection as well as dehydration and malnutrition. Angelina Jolie stated that "she was six months and not nine pounds. Her skin, you could squeeze it, it stuck together". Zahara's name means "flower" in Swahili.

Shiloh Nouvel Jolie-Pitt
Born on May 27, 2006 at Cottage Medi-Clinic Hospital in Swakopmund, Namibia. Shiloh was born by a scheduled cesarean section, due to breech presentation.

Life in New Orleans
The family divides its time between Los Angeles, California and New Orleans, Louisiana. In an interview with the Times-Picayune, while filming The curious case of Benjamin Button, Brad Pitt said:
" I can't describe why we're allowed to live a more normal life (in New Orleans). Living in the French Quarter is a thrill for us. We have some semblance of real family life. People have been very, very gracious with us. If we're on the front deck, people go by and say, 'Hi.' Then they go on their way, very friendly.



*source wikipedia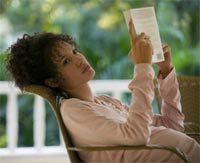 A Mighty Heart is the big screen adaptation by Michael Wiinterbottom (The Road to Guantanamo). Angelina Jolie stars as Mariane and Dan Futterman (who wrote Capote) as Daniel. Brad Pitt, is one of the producers of the film.
More...
This time around, Oceans was shot in Europe, and Pitt says it is tough to compare these European locales to Vegas.
More...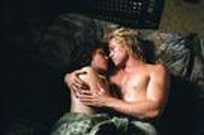 Interview with Brad Pitt on epic movie, Troy.
More...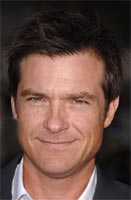 Jason Bateman displays both comedy and drama in the terrorist-themed procedural thriller The Kingdom, in which Jason Bateman plays an FBI agent, part of a team, who goes to Saudi Arabia to investigate a mass murder at the hands of extremists.
More...
---