General Manager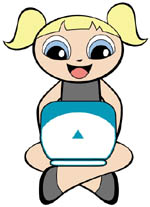 Name
Tim Giles



Age
33



Job Title
General Manager Mobemail.com.au



Job Description
Managing a rapidly expanding mobile messaging site and E-zine.



Hours (per week)
Most!



What was your first job?
Holding a dartboard at the right height so that my brothers could practice when I was 6 for $5. Note: this was also my first experience of risk management. Later I discovered the joys of hay carting.



What inspired you to choose the particular career you're working in now?
The exciting possibilities of the new media, the chance to work with stimulating and highly creative people and not having to wear pants to work.



What qualifications are needed to work in this field?
The skills needed to run a business on line are identical to those off line. No specific qualifications although an ability to count, knowledge of HTML and a goose that lays golden eggs would all help.



What are the best aspects about your job?
The freedom to pioneer new business models and play with cutting edge technology.



What are the worst aspects?
Listening to other people tell you about their new online business models.



How many years' experience do you have in this field?
4 Years



Are there many employment opportunities?
Despite a few hiccups over the past 12 months the Web industry as a whole is growing and with it have come new jobs which did not even exist a few years ago.



Other related careers
Journalism, design and programming. A bit of all three and you can go a long way in this industry.