Ultimate zinc cream protection without the white sheen!
Research confirms that melanoma skin cancer is one of the most diagnosed cancers among Australians aged 15-44ª. With summer just around the corner, it is now imperative for us to remember to protect our skin.
Australia's peak cancer control organisation, The Cancer Council Australia, has launched Classic Sunscreen SPF30+ with ZincClear - a revolutionary new sunscreen that offers classic zinc cream protection without the white sheen for the whole family. Classic Sunscreen SPF30+ contains 100% active invisible zinc ingredients for ultimate sun care and moisturising products for a non-oily feel.
Classic Sunscreen's unique moisturising zinc formula makes it suitable for the whole body and face while offering a solid 4 hours water resistance. It is ideal for those who want the protection of a zinc cream without a white smear on their nose and lips!
Classic Sunscreen SPF30+ has undergone stringent SPF (sun protection factor) testing to ensure maximum effectiveness and premium protection - and all sales help fund The Cancer Council Australia's research, patient support and education.
"Disturbingly, The Cancer Council Australia's National Sun Survey¨ found almost one in five Australians are sunburnt on summer weekends," says James Wright, Managing Director of Skin Health, makers of The Cancer Council Australia sunscreens. "Sunburn often leads to premature ageing and melanoma, so we developed Classic Sunscreen SPF30+ to give Australian families the best sun care available - without the traditional whitening of zinc cream. A daily sunscreen routine is an integral part of living in Australia, which is why we continue to expand our range with effective, top-quality products for all skin types."
Classic Sunscreen SPF30+
is the latest addition to The Cancer Council Australia's wide range of SPF30+, broad spectrum, water-resistant sunscreen formulas to help effectively absorb and reflect UV radiation. The advanced new sunscreen has been developed by The Cancer Council's trusted sun care experts to protect against damage from the harsh Australian sun.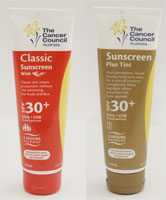 Additional products in The Cancer Council Australia's broad sunscreen range are:
·
Natural Sunscreen SPF30+:
Fragrance-free, low-irritant and free from chemical sun-blockers, making it ideal for adults with sensitive skin and those who prefer natural sun care products. It applies smoothly without giving an oily feel and is 4 hours water-resistant.
·
Sunscreen Plus Tint SPF30+:
Non-permanent, tinted moisturising sunscreen that gives a natural summer complexion. It is 3 hours water-resistant and its golden colour helps highlight where sunscreen has been applied. Suitable for the whole body and face.
Classic Sunscreen SPF30+ is available in 110ml tube size, and can be purchased at Cancer Council shops, Coles, Woolworths, Safeway, IGA, Big W, K Mart, Target, Priceline, convenience stores and pharmacies nationally for the RRP of $12.95.
The Cancer Council Australia's full sunscreen range also includes Everyday Sunscreen, Ultra Sunscreen, Sunscreen Plus Insect Repellent, Sport Sunscreen and Toddler Sunscreen. Products are available in 110ml tube, 75ml roll-on, 200ml flip-top bottle, 250ml trigger spray, 500ml pump pack and 1 litre pump pack sizes.