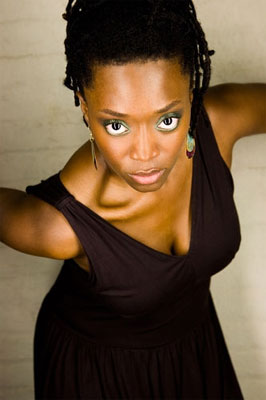 Candice Anitra
Candice Anitra is a soul singer and songwriter from Brooklyn, New York. She began her career in the world of dance in Philadelphia, she pushed through her limits whilst suffering from knee injuries and moved into her comfort zone of music, visual arts and theater.

Candice sings whilst Mike Gamble plays guitar, Noah Jarret is on bass and Zach Lucas is on keys.

Her music is full of poetic, lyrical content that moves the swift lyrics through the sound of beating music. Candice's music is everything; dancing, driving and music you can sing too. Her voice is magical using height and depth to create content.

The EP Easier provides an overall show containing the various types of sounds Candice is capable of providing to an audience. Her voice is very moving and whilst being graceful and soulful it still makes you want to dance due to its rhythmical charm.

Describe your musical style?

Candice Anitra:Audrey Lourde + Anita Baker + Amy Winehouse


What is your top pick-me-up trick?

Candice Anitra:Dancing, journaling, sharing laughs with the my family.


What's your best quality?

Candice Anitra:Empathy. It informs everything I do.


Whose music do you admire most?

Candice Anitra:Sam Cooke, Nancy Wilson, Bill Withers, Ella Fitzgerald.


Favourite shop?

Candice Anitra:Is the internet a shop? I love window shopping online: Macy's, Target, 6pm, Zappos.


Where would we find you on a Sunday?

Candice Anitra:Sleeping in, eating crepes, writing, reading with my girls, in front of the computer.


What do you do to relax?

Candice Anitra:Dance, laugh, enjoy intimate moments with my loved ones, read, watch TV, listen to music.


How does it feel to hear your songs on CD?

Candice Anitra:Surreal.


Did you have any pre-conceived ideas about the music industry?

Candice Anitra:Greed, chauvinism, users, posers...but unscrupulous folks are everywhere - why should the music industry be any different? I'm a big fan of the theory that our actions tell others how to treat us - so I focus my energies on what I'm doing to invite my current reality.


Do you write your own songs? What's your inspiration?

Candice Anitra:Yes, I write all of my own lyrics. I'm inspired by passing fancies, reverie (I've always had an intense dream life - both day and night), reading about relationships/gender/sexuality, love sonnets by Pablo Neruda, Murikami, my family. I'm learning and whatever I'm ingesting has it's own ripple effect.


What music/artists do you listen to when you are not playing your own?

Candice Anitra:Of course, Sam, Nancy, Bill, & Ella - but also, Stevie Wonder, Al Green, The Roots, Lauryn Hill, Talib Kweli, Nina Simone, Bjork, Seal, Gnarls Barkley, John Legend, India.Arie, Jill Scott, Bilal, Amy Winehouse, Anthony Hamilton, Cassandra Wilson,Corrinne Bailey Rae, Dave Matthews Band, K-OS, Kanye, Lupe Fiasco, Sade, Sara Bareilles, Sizzla, Buju, Tori Amos, Outkast...I love music and there's almost always something on - so I could play this game all day. Right now I'm obsessed with that Jazmine Sullivan single, I Need You Bad.


What's next? Tour/Album/Single?

Candice Anitra:I'm gigging locally in NYC and working on a full-length album right now.


Do you prefer performing live or recording?

Candice Anitra:I definitely get intense performance anxiety, but there is something magical about performing. The most fun for me is the songwriting but I love a great jam session.


What/who was your inspiration to go into the music industry?

Candice Anitra:We listened to a lot of great music in our house and my dad used to sing to me, mostly songs he'd written. The most inspiring thing is being a parent. I just want to be a good example for my children. I want to be able to tell them to follow their dreams at any cost, and, to do that without being a hypocrite, I need to follow my own.


What has been your favorite part of becoming a music artist?

Candice Anitra:I'm a storyteller, and finding my own voice has been very empowering. I feel stronger and like I can do anything I set out to do.


If you could collaborate with another artist, who would it be?

Candice Anitra:Talib Kweli, Bill Withers.


The Easier EP is available now on iTunes, Amie Street, Amazon, Rhapsody, and EMusic. Candice is currently working on her first full-length release, Soulstice: Bark Then Bite.