Charli Delaney for Loud Shirt Day
Loud Shirt Day will have children from schools and organisations 'letting their crazy out' on the 14th of May to raise funds and awareness for the deaf and hearing impaired children across Australia.
The money raised from Loud Shirt Day will benefit The Shepherd Centre. The Shepherd Centre is a not-for-profit organisation that teaches deaf and hearing impaired children from the ages of 0-5 years old how to listen and speak so that they can progress into mainstream school. The organisation relies on over 70% of community funding - so it's great to see so many local organisations and schools on board for the day.
Radio personality and former Hi 5 star, Charli Delaney is among hundreds of supporters across Australia who will be going wildly colourful on the 14th of May.
"I'm delighted to be a part of this fantastic initiative to get deaf kids talking. All children should have the chance to be able to listen to music, dance, talk and sing - all things that the average person takes for granted. I urge everyone to get a little crazy and support deaf and hearing impaired children across Australia, and donate to the Shepherd Centre" said Charli.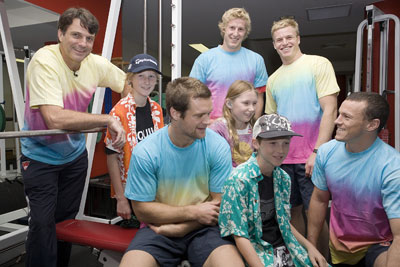 The Shepherd Centre encourages people to raise funds by registering online and calling on their friends and family to sponsor them to wear creative and colourful clothing on Loud Shirt Day. Participants can send their fundraising to The Shepherd Centre or donate online or through Everyday Hero.
The organisation's CEO Anthea Green is appreciative of all the support and says the money raised will help provide ongoing services to children and their families at the Shepherd Centre.
"Developing the spoken communication skills of children with hearing loss so they can attend mainstream education has always been the aim and philosophy of The Shepherd Centre. Our most recent research shows that the vast majority of our young graduates do just as well in mainstream school as their hearing peers, which is fantastic," said Ms Green. "We rely on 70% of our funding from the community, so it's great to see so many people having so much fun for a day and supporting the cause."
For more information or to register visit the Loud Shirt Day website go to:
www.loudshirtday.com.au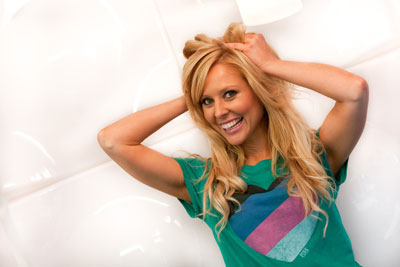 Interview with Charli Delaney
Tell us about your Loud Shirt:
Charli Delaney
: There's nothing like a "loud" shirt to brighten your day! Loud Shirt Day is all about raising money for deaf and hearing impaired children across Australia so that they can receive adequate training and support to be able to develop speech and listening skills and ultimately progress into their mainstream school. I'm helping to raise awareness for the kids at The Shepherd Centre. Funds raised in New South Wales and the ACT on Loud Shirt Day will benefit the students at The Shepherd Centre.
I wear what ever colour I'm in the 'mood' for that day- so Loud shirt day is perfect for an out- there day!
Has being a past member of Hi 5 made your more aware of children with hearing problems and the importance of raising awareness for such charities?
Charli Delaney
: Yes, absolutely. I've been fortunate enough to meet many inspiring children around the world through Hi5. At The Shepherd Centre, early intervention is the key so raising awareness about children with hearing problems is so important. I encourage all mothers should have their child tested for hearing difficulties at birth.
Have you learnt any sign language whilst being involved with The Shepherd Centre?
Charli Delaney
: The early intervention programs at The Shepherd Centre help deaf and hearing impaired children develop spoken language so that they can be integrated into mainstream school and thrive there. In fact, 90% of students from The Shepherd Centre go on to attend mainstream school.
Do you miss the interaction with children that you had with Hi 5, now that you are on radio?
Charli Delaney
: Yes! I always used to look for cuddles when I met kids that like Hi5 - that was the best part! It's hard to believe that most of the kids that used to enjoy Hi5 now listen to me on the "Hot-30 Countdown"!
Do you think it is important that celebrities are spokespeople for their chosen charitable organisation?
Charli Delaney
: When anyone who is fortunate to have a public voice, they should speak of something worthy and at some point, give time and effort to people or charities in need. For me it's all about love. It's the answer to everything. Love everybody. That then leads to tolerance, acceptance and equality.
How can others get involved with The Shepherd Centre?
Charli Delaney
: The Shepherd Centre relies on over 70% of its funding from community donations so your contribution is so important. To donate to The Shepherd Centre visit their website:
www.shepherdcentre.com.au
or call 1800 020 030.
To get your school, business or community group involved in Loud Shirt Day visit
www.loudshirtday.com.au
. It's an opportunity to have a some fun with your work mates or school community and let your crazy out while supporting a worthy cause.
Are you involved in any other charities?
Charli Delaney
: Yes, the Day of Difference is very close to my heart. As is Starlight day, and basically anything or anyone looking out for the gorgeous children!