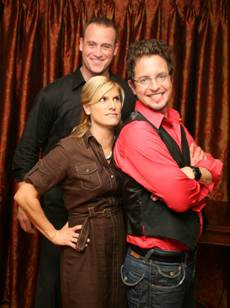 Clean House: Search for the Messiest Home­ Season 2
Fridays, starting 18th June @ 6:40pm (10x60')

Each episode centers on one woman who reveals the top 10 things she "can't stand" about herself. Lisa Arch & notable experts help tackle these issues one by one.


Friday, 4th June @ 6:40pm - Clean House: Search for the Messiest Home #105: 'The Winzer Family'

Sean was born and raised in the house. Sean's father was an airline pilot, his mother, a stewardess and they traveled the world collecting curios and decorating their classic, large mid-century Las Vegas home with their finds. Twelve years ago, Sean lost his father and, as a result of very aggressive cancer, he lost his mother six months ago. In the past few years, his mother, Cynthia (known as "Cyn") had become a serious hoarder, buying many items on the Internet as potential "gifts" and piling the rooms in the house higher and higher. When she died suddenly, Sean and his wife Laura were faced with tackling the massive job of clearing out this house. In addition to their loss, Laura lost her job because she took too much time off work to care for Cyn. Sean and Laura were caught up in the real estate decline and they lost their home to foreclosure. Now they have to move into Cyn's house. They moved their own things into a storage POD in the driveway because there is simply no space in the house to move anything in. They cleared what they could from the den and are now camping out there surrounded by the rest of the clutter. They are overwhelmed by the seer amount of stuff and cannot take the next step.


Friday, 11th June @ 6:40pm - Clean House: Search for the Messiest Home #106: 'The Bhandari Family'

Balvinder (Bal) Bhandari and his wife Crystal have been married for 14 years. They have 13 year-old triplets Austin, Britin and Chastin, and live in a beautiful 2-story home in suburban Atlanta for the past 12 years. Their outward appearance seems fine, but behind closed doors, clutter is tearing this family apart. Balvinder (Bal for short) has been a DJ for over 25 years. Nine years ago he was laid off from his computer science job and decided to make his living solely from DJing. In an attempt to stay ahead in his business, Bal has spent the past nine years collecting the latest and greatest equipment available for his business. Being a packrat, Bal does not get rid of his old equipment when he buys something new, and today he's got DJ equipment spread throughout the house, which has pushed Crystal to her breaking point. After years of cleaning up after her husband and sons, Crystal hit a wall. Five years ago she gave Bal an ultimatum: Either move all your equipment off the first floor or she was moving out of their bedroom and into a room of her own on the second floor. Bal challenged the ultimatum and Crystal was crushed. She and Bal have not shared a room in five years. Since moving upstairs, Crystal withdraws in her room, sometimes leaving the house altogether, to avoid the mess. She now sleeps on her own, in a room on the second floor near the boy's bedroom. According to Crystal, since she moved out of their bedroom, Bal's way of exerting power has been to disappear mentally from being part of the family. Bal does nothing but DJ and spends time on the computer buying more gear. While Crystal is responsible for getting the boys to and from various activities; sports, music, theater, she's also responsible for cooking, laundry, cleaning, and even mowing the lawn. She's resentful that she has all this responsibility on her shoulders. She says, "This is not a marriage. I don't want my boys to see this as being normal.... Crystal nags and bickers with Bal constantly about the mess and is convinced that all the clutter is his fault. She believes that if Bal would give up his equipment and cleans up, it would prove that he cares about their family. Bal on the other hand believes that Crystal is a compulsive bargain shopper who is constantly bringing unnecessary items into the home. Crystal denies that she is a "compulsive shopper". The triplets have acquired the bad habits of their parents - primarily their father. The large bedroom that they share is a cluttered mess. With clothing on the floor, toys and musical instruments all spread around the room. The boys will often sleep on cots in their mother's room to escape their own messy space. Crystal accepts the blame for spoiling the boys and for constantly cleaning up after them. She hates that they've adopted their father's bad habits. The boy's say despite their messiness, they want to change their habits because they can see how it affects their parent's relationship.


Friday, 18th June @ 6:40pm - Clean House: Search for the Messiest Home #204: 'The Désiré Family'

After breaking up with his wife of 18 years, Jim met Jiffy on the Internet 2 years ago. They were married last August. Jim promised Jiffy he would clean out his house which is filled with reminders of the ex's style and boxes of things he collected with her over the years. Unfortunately, Jim has not been able to bring himself to clean the house. He says it is too much for one person, he does not ask the kids to help. He babies them. He lives at Jiffy's every weekend he does not have the kids. He'd rather do anything than move the clutter out.


Friday, 25th June @ 6:40pm - Clean House: Search for the Messiest Home #201: 'The Brooks Family'

Jon is a hoarder and attached to everything that reminds him of his childhood. Kristen doesn't clean because her mom always did it for her. Kristen has never felt like their home is hers because Jon gets upset if she decorates or disrupts his clutter system.


Clean House Comes Clean Season 5

Fridays @ 7:35pm (9x30')

This a behind-the scenes look at the mayhem & foolishness of Clean House where we show how the team of experts work their magic to transform the cluttered spaces into dream homes.


Friday, 4th June @ 7:35pm - Clean House Comes Clean #507 'Busted: Top CH Caught on Tape Moments'

In "Busted: Top Caught in the Act Moments" CHCC looks at families doing things they wish had stayed secret. Specifically… Derold Gaines bringing home junk he found on street, against his wife's wishes. Angie McCord walking off the show when she sees her living room has no couch. Becca Iwasaka and her family threatening to leave the show before Niecy calms them down. Marc Fink and wife Jill discussing an afternoon tryst. Vivien Cohen planning to steal her pricey shoes before they can be sold at our yard sale. Michael Halverson crying uncontrollably during-and after-the reveal scene of his garage makeover. Gillian Grier crying to manipulate his uncle comedian David Alan Grier to save his toys from the yard sale. Phil Wheeler with wife Mindy having a secret conversation that wasn't as secret as they thought. And lastly, Matt Iseman getting busted for screwing up the installation of a fireplace mantle.


Friday, 11th June @ 7:35pm - Clean House Comes Clean #501 'Sofa Sleepers'

Matt, along with a reluctant Mark and Trish report the "break news stories" of two loving couples who have so much clutter in their bedrooms that they're forced to sleep on their sofas. Get the behind-the-scenes scoop on Kumar and Shimohara families as our team helps them get off the couch and back into bed together.


Friday, 18th June @ 7:35pm -Clean House Comes Clean #508 'Shootouts at the Clean House Corral'

Trish, Mark and Matt saddle up to take on clutter desperados and bring their messy behavior to justice. Get the behind the scenes look at the Bhandaris and the Lussiers, two dueling couples locked in a showdown over the clutter invading their home, and see what lengths the cast takes to tame those relationships. It's a wild west shoot-out - Clean House Comes Clean style!


Friday, 25th June @ 7:35pm - Clean House Comes Clean #509 'Top Clean House Fights'

Get ready for homeowner smack downs as Clean House Comes Cleans' "Battle Royale" takes an all new look at more of the best fights ever seen on Clean House.


Clean House
Weekdays @ 4:00pm and 10:20pm

Clean House helps families by giving them professional help to overcome clutter and the mess that goes with it. In each episode, hosted by comedian and mother Niecy Nash, Clean House brings its team of experts, removes the offending clutter, sells it at a yard sale, and uses the profits with the first thousand matched by the show's producers, to redo the overwhelmed space. It's a problem faced by many families, but now there is professional help on the way to guide them through the spring-cleaning of a lifetime. After the profits are compiled, style's crack interior design team (including Trish Suhr, the yard sale diva, Mark Brunetz, the designer, and Matt Iseman, the go-to guy) dramatically transforms the newly de-cluttered home, while the family anxiously await to see their newly made over abode. Mark Brunetz, the designer, also utilizes objects in the family's actual home as design inspirations and key pieces in combination with purchases funded by the yard sale.