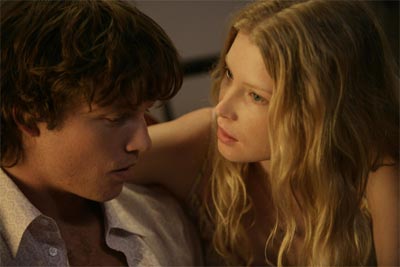 Starring: Brenda Blethyn, Khan Chittenden, Emma Booth, Richard Wilson, Frankie J. Holden, Rebecca Gibney
Directed by Cherie Nowlan
Running Time: 109 Minutes
Rating: MA 15+

Meet the Dwight family. Mum, Jean Dwight, is trying to make a comeback on the club comedy circuit. Her ex-husband John is also trying to revive his showbiz career on the country music scene, 30 years after his three weeks at number one in 1975. With parents like this and a disabled brother, it is hardly surprising life's not always easy for 21 year-old Tim who's shy, lives at home and is a disaster with women.

When the beautiful and feisty Jill walks into his life things seem to be looking up - except of course Jean Dwight is not the kind of woman to give up her son without a fight. As these two strong women battle over the man they love, questions of family loyalty, the mother-son bond and the power of first love all come into play. The result is a funny and moving journey that proves there are never only two people in a family love story.

The hit of the 2007 Sundance Film Festival, CLUBLAND stars Academy-Award nominee Brenda Blethyn in a stellar performance, rising stars Khan Chittenden, Emma Booth, Richard Wilson and Katie Wall, and Australian screen favourites Rebecca Gibney and Frankie J Holden. CLUBLAND will have you laughing, crying and running home to hug your family.

In cinemas 28th June.


Enter for your chance to win double passes to Clubland