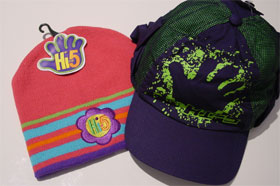 Hi-5's variety of winter accessories is a must-have for every wardrobe! There is a colourful range of beanies, scarves, gloves and hats that features the signature Hi-5 hand logo in a variety of designs and prints.

Girl.com.au has five Hi-5 girls' beanies and five boys' hats to give away. This soft-knit beanie is deep pink with colourful stripes in bright blue, orange, purple and green. There is also a colourful flower embroidered at the front of the beanie with the word "Hi-5" stitched in the centre. This beanie will match any outfit this season!

The Hi-5 boys' hat is navy blue and has a protective flap to keep the sun off the neck in the playground. It has a spray-painted hand print and the word "Hi-5" in neon green. This funky hat is also decorated in contrast navy and neon green panels with mesh detailing. This hat not only looks cool, it's practical as well!

Hi-5 accessories are sold exclusively at Kmart, with sizes available from 1-6 years, ranging from $11.89 - $15.99.