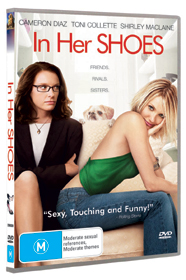 With an all star cast including Toni Collette, Cameron Diaz and Shirley MacLaine, In Her Shoes is an irresistible film! Packed with special features, In Her Shoes is available to own on DVD from February 8, 2006.

In Her Shoes, based on Jennifer Weiner's novel of the same name, is a hilarious and moving comedy about two sisters with nothing in common but size 8 1/2 feet. One sister, Maggie (Cameron Diaz), is a drop-dead gorgeous, but irresponsible party girl and the other, Rose (Toni Collette), is a straitlaced and successful attorney. The two have a calamitous falling out after Maggie moves in with her big sister. Aided along the way by a grandmother they never knew they had, the two sisters find they still need each other more than ever!

All In Her Shoes DVD purchases come with a Top To Toe Value Booklet with over $300 worth of savings including a 50% savings on selected Designer Fragrances from efragrances, 10% discount on the purchase of a beautiful floral gift from Roses Only, free 7 day pass for Fitness First and $20 offer towards one of your amazing experiences with RedBalloon Days just to name a few, plus the chance to win $2000 worth of Covergirl cosmetic's.

Rated M
Running Time: 125 minutes.