WIN OVER $650 WORTH OF SEXY, DECADENT MAKE UP FROM INIKA, THE HOTTEST NEWCOMER IN THE FIELD OF AUSTRALIAN COSMETICS
Enter for your chance to win:
A fabulous Professional Inika Cosmetic Case, (pictured) an Inika Foundation, Blusher, Bronzer, Mascara, Lip-Liner, 5 Eye-Shadows, 3 Lip Varnishes, 2 Eye-Liners, Inika Kabuki Powder Brush and an Inika Eye-Shadow and Angular brush, a complete set of Inika cosmetics valued at over $650! And best of all you get to choose your colours!
That's right unlike most cosmetic companies who offer last years colours in a give away or colours that aren't selling well, with Inika you get to choose your prize!
Inika Cosmetics are world leaders in the field of advanced mineral cosmetics. Their make up is all natural and best of all their cosmetics are sexy and fun.
Mineral cosmetics were originally used to colour traditional makeup. It was then discovered that these loose mineral powders could actually be used as makeup in their own right. Because the pigments are mineral based, they are inert, which means they cause almost no allergic reactions.
All Inika products are 100 percent pure and natural and free of chemicals. Inika are an Australian company and their cosmetics are made of Australia, literally from the very rocks that form our land. Inika are certified Vegan and also Cruelty Free.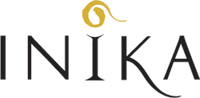 Inika capture Mother Nature's richest and most flamboyant hues with makeup that is natural but sexy, with vibrant colours and versatile products. Because Inika cosmetics are made from such pure ingredients they don't irritate the skin and clog pores. Due to the dense pigments, you can hide skin conditions such as acne, rosacea, redness or scarring and your skin can still breathe. The foundations also have a built in natural sunscreen to protect the skin.
Learn more about Inika visit:
www.femail.com.au/inika-natural-mineral-cosmetics.htm
www.inika.com.au