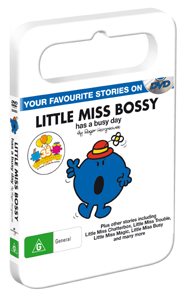 Thanks to Universal Pictures and the release of Mr Men and Little Misses on DVD, here is your chance to win Mr Noisy or Miss Bossy.
For 35 years, the endearing personailities of the 46 Mr Men and 33 Little Misses have entertained millions of children around the world, and so this September Universal Pictures is proud to announce the release of ten new Mr Men and Little Miss titles, available to own or rent on DVD from 13th September 2006, just in time for the school holidays!
The DVDs are based on the hugely popular books by Roger Hargreaves, who was prompted to develop the Mr Men characters when his young son asked him what a tickle looked like.
As most adults have grown up with the iconic designs, now a new generation of children can enjoy watching their favourite Mr Men and Little Misses come to life on the small screen.
All ten DVDs come in easy-hang cases, each disc has one lead story and contains 10-12 episodes of other stories:
He...Hello Little Miss Shy and other stories

The joke is on Little Miss Naughty and other stories

Little Miss Chatterbox finds her calling and other stories

Little Miss Bossy has a busy Day and other stories

Mr Mischief becomes an artist and other stories

Mr Clumsy head butler and other stories

Mr Clevers invention and other stories

Mr Bump goes on a trip and other stories

Mr Strong makes a big splash and other stories

Mr Noisy the music man and other stories

These classic DVD stories are the perfect way to keep little ones entertained - or to bring back the memories of your own childhood!

Price: $19.95
Classification: G
Duration: 50 minutes (approx)

www.universalpictures.com.au