Nancy Drew Game Packs
Thanks to Mindscape here is your chance to win 1 of 10 Nancy Drew PC Game packs including:

The White Wolf of Icicle Creek

The Creature of Kapu Cave

Danger by Design
Trio Pack RRP: $89.95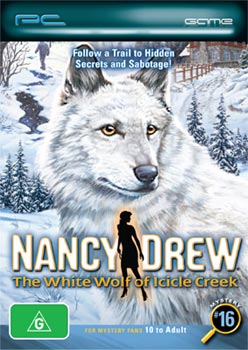 PC Game - Nancy Drew: The White Wolf of Icicle Creek
Follow a Trail to Hidden Secrets and Sabotage!

You, as Nancy Drew, are invited to work undercover at the Icicle Creek. Dangerous accidents, sabotaged properties, and explosions are followed by a mysterious white wolf appearing at each incident. Is this lone howling wolf a friend or foe?

Storyline:
Nancy Drew travels to the Canadian Rockies to investigate the Icicle Creek Lodge. Chantal, the owner of the lodge has asked her to uncover the culprit behind a recent string of suspicious accidents. To make matters worse, an eerie howling wolf keeps everyone up at night and terrorises the guests. The wolf also appears at the site of accidents and then mysteriously disappears when the police arrive. As Nancy makes her way to the cozy lodge, an explosion rocks the quiet night, destroying a bunkhouse. A wolf howls mournfully in the distance. Nancy has barely set foot on the premises and already trouble is afoot! Can Nancy solve this mystery before all the guests leave and Chantal is left out in the cold?








---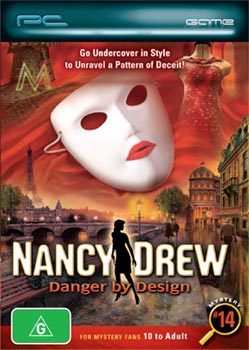 PC Game - Nancy Drew: Danger by Design
Danger Lurks Below the City of Lights - Can You Find It Before It Finds You?

Nancy Drew: Danger by Design has Nancy Drew flying to Paris to investigate the strange and unexplained behaviour of a top fashion designer.

Storyline:
Nancy Drew finds herself in Paris where she was sent by a nervous investor to check on Minette, a leading fashion designer whose strange, unexplained behaviour may delay her Spring Collection and potentially derail the fashion house. Strange threats and unwelcome guests arrive for Minette. Unsettling rumours dating back to an unsolved, historic mystery distract Nancy from the current task at hand.

As Nancy, players will sort through the web of suspects to look for clues. From Minette's old flame Dieter von Schwesterkrank to gorgeous model Jing-Jing Ling, deceit is woven deep within the fashion industry. Whether exploring the underground catacombs or abandoned metro stations for clues, players will need to rely on their powers of observation and deductive reasoning to solve this international mystery, and help Minette launch her Spring Collection on time.






---
PC Game - Nancy Drew: The Creature of Kapu Cave
Team Up With the Hardy Boys to Track an Ancient Legend Through Hawaii

Nancy Drew: The Creature of Kapu Cave is the fifteenth installment in the award-winning Nancy Drew PC adventure game series.

Now, for the first time ever in a Nancy Drew PC game - assume the role of three different players: Nancy Drew, or Joe or Frank Hardy.

Storyline:
It's not all luaus and leis for Nancy Drew in The Creature of Kapu Cave as she travels to Hawaii as a research assistant for Dr. Quigley Kim. In transit, she runs into the Mapu family, who loan her an SUV and give her directions to Dr. Kim's camp. The Hardy Boys, on a separate covert operation, are also visiting Hawaii and staying at the cultural immersion centre run by the Mapu family.

Before leaving for the camp, Nancy is warned to avoid the secretive Hilihili research compound of Malachi Craven as some believe it's linked to the legend of Kane 'Okala - a man who narrowly escaped being sacrificed to the volcano but was left with a hideous, scarred appearance. When Nancy arrives at Camp Quigley, she discovers that the camp has been ravaged and Dr. Quigley is missing. As her adventure unfolds, Nancy discovers the Kapu or 'forbidden' cave and suspects that something mysterious is hidden behind the Tiki Centennials.

More on these Nancy Drew Games www.girl.com.au/nancy-drews-games-white-wolf-creature-kapu-cave-danger-by-design.htm

Nancy Drew PC Games are available through www.mindscape.com.au