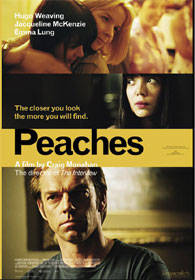 Starring : Hugo Weaving, Jacqueline McKenzie, Emma Lung
Director : Craig Monahan
Genre : Drama
Rated : M

"Peaches" is an intelligent, poignant drama that is full of life, love andwarmth. Set in the sleepy town of Swanreach in South Australia's Riverland,

"Peaches" tells the story of 18 year old Steph (Emma Lung) who has justcommenced work at the local peach cannery. Having survived a tragic caraccident that killed her parents, Steph has been raised by her late mother'sbest friend Jude (McKenzie), a caring but over protective guardian who findsit very painful to open up to Steph about the past and her previousrelationship with cannery foreman Alan (Weaving). At its core, "Peaches" isthe story of a young woman's search for love and acceptance...a search thatuncovers the mysteries of her past and their role in determining her future.

The film will be screening nationally from June 9.
Enter to win advance screenings taking place June 3 to 5.