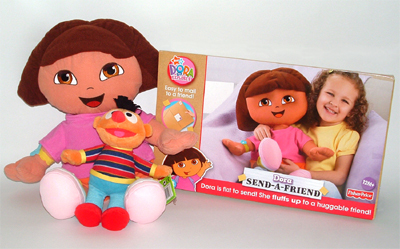 You've got mail... Win your very own Send-A-Friend!
Available from 1 November 2006 in Target and K-Mart

Send-A-Friend is the exciting new way to send plush toy characters to your friends in the post!

Available in everyone's favourites including Elmo, Winnie The Pooh, Sponge Bob Square Pants, Dora and many more, posting a Send-A-Friend in the mail has never been so easy or so much fun!

Already packaged in a box to post, once the recipient gets their Send-A-Friend and breaks the special vacuum seal, the cute soft plush toy will come to life with lots of cuddles and snuggles, right before their very eyes!

To celebrate the availability of Send-A-Friend from 1 November 2006, Fisher-Price has five fantastic prizes to give away. Each pack is valued at $50.00 RRP, and includes a large Send-A-Friend plush toy as well as a small beanie plush doll.