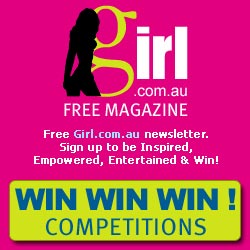 "Join Girl.com.au for your chance to WIN a $500 Myer wardrobe"

ENTRIES CLOSE: 30 / 11 / 2007

Girl.com.au is bright, fun and addictive. Empowering every girl to be fealess and fantastic, Girl.com.au offers celebrity interviews, fashion, beauty, music, health and thousands of competitions.

Join up to for your chance to Spring into Summer with a new $500 Myer Wardrobe. All entrants automatically become a Girl.com.au member and receive their newsletters and promotional offers.

WHAT YOU'LL RECEIVE:

Monthly e-newsletter from Girl.com.au plus your chance to WIN a $500 Myer Wardobe.

HOW YOU'LL RECEIVE IT:

This offer is delivered online.

CONDITIONS APPLY:

This offer is limited to Australian residents only.