Thanks to Sony Pictures and the release of hot new comedy 'St Trinians' here is your chance to win double passes.
Cast
: Rupert Everett, Colin Firth, Lena Headey, Caterina Murino, Jodie Whittaker, Russell Brand, Stephen Fry, Lily Cole, Mischa Barton, Gemma Arterton
Directors
: Oliver Parker, Barnaby Thompson
Genre
: Comedy
St Trinians - School Can be A Riot
St Trinian's is in crisis! The notorious school for young 'ladies' has been threatened with closure and needs to find funds, fast. A whole host of ungovernable and downright unruly pranksters (and that includes the teachers) are game on to pull off the heist of the century.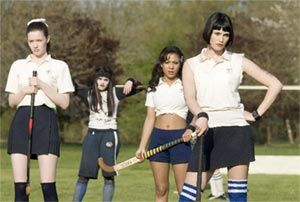 Their plan? Steal an extremely famous painting from the National Gallery. Right under the noses of the authorities, of course. But can their combined cunning and total lack of shame save the day before school is out - for good?
The St Trinian's girls are in a league of their own; smart, fearless and determined to defend the school they love to the end.
www.sttriniansmovie.co.uk Only at the movies March 27th 2008.