Thanks to Annette Sym and her new book 'Symply Too Good To Be True' here is your chance to win one of her fabulous low-fat recipe books.
Annette is a mentor to those wanting to lose weight, adopt a healthier lifestyle or succeed in a competitive business world. As one of Australia's most prominent small business operatores and weight loss and health gurus, Annette Sym inspires others through her own journey. With a genuine desire to see people's lives transformed by making healthy lifestyle choices, Annette takes people step-by-step into 'her world'. She offers practical tips, delicious recipes, nutritional advice and weight loss motivation.
With no tertiary education or previous business experience she has turned the triumph over her own weight issues and health struggles into a multi-million dollar business in just eight years, and to dates has sold more than 2 million cookbooks, all self published.
Best Selling low fat cookbook author, Annette Sym, officially launched her much-anticipated fifth book in front of a huge crowd on the Sunshine Coast.
Symply Too Good To Be True Book 5 is a fabulous addition to Symply Too Good To Be True range of low-fat recipe books, CD-Rom menu planner and motivational CDs
In 2004 she was took out the Telstra, Australian Government and Queensland Government Micro Business of the Year Awards and earlier this year she was listed as number 27 on the 2006 'Business Review Weekly Australian Female Entrepreneur Report', released this month. She has also consulted with the Federal Government on small business issues, and is also currently working as a member of the Queensland Association School Tuckshops Board.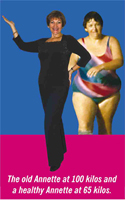 All Annette Sym's books are available from all good newsagencies, priced at $12.95 each.
RECIPES
Chicken Cordon Bleu:
www.girl.com.au/chicken-cordon-bleu.htm
Chocolate Slice:
www.girl.com.au/chocolate-slice.htm
Healthy Sandwiches:
www.girl.com.au/healthy-sandwiches-roast-beef-satay-chicken-smoked-salmon.htm
Mango Passionafruit Cheesecake:
www.girl.com.au/mango-passionfruit-cheesecake.htm
Thai Beef Noodle Salad:
www.girl.com.au/thai-beef-noodle-salad.htm