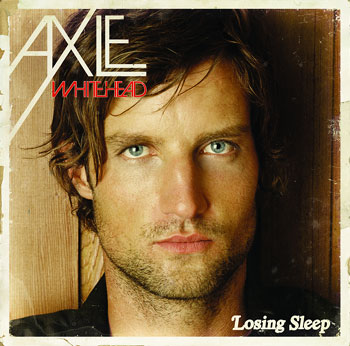 Thanks to Roadshow Music here is your chance to win Axle Whitehead's new album 'Losing Sleep'.
Forget what you think you already know about Axle Whitehead. Because this is Axle's stunning debut album, 'LOSING SLEEP', and no matter what you think you already know about Axle, everything will change after just one listen.

'LOSING SLEEP' will prove something of a musical revelation to many, revealing Axle as a serious singer/songwriter, as well as a vocalist and musician of considerable skill and invention.

Naturally, up until now, most people will only know Axle from his work on Television during his popular and high-profile stint as host of Channel Ten's Video Hits. Or, some people might have heard about a rather infamous incident at the ARIA Awards?

All that stuff already feels like a lifetime ago to Axle, but before any of it, first and foremost, Axle is - has always been - a musician in the purist sense of the word. Go to YouTube. Type in his name. [That's A-xL-e.] The first thing that comes up is a clip of Axle as a young teenager, fronting a high school jazz combo. Soon after, he was studying music and improvisation at the Victorian College of the Arts and cut a living as a professional muso, fronting a group called the Axle Whitehead Band which included some of Melbourne's hottest jazz musos. The band's style was a mix of hardcore jazz, hip hop and soul, and they played the best jazz clubs and festivals around Melbourne and into Sydney.

For all that musical experience, Axle's debut solo album "LOSING SLEEP" is not a jazz album. Far from it. Rather, it's a dreamy, musically-adventurous collection of original compositions and sophisticated pop songs. "To have all these ideas to make this kind of music and now have it happen - it's really a dream come true," says Axle.

The irony is that prior to getting the gig hosting Video Hits, Axle didn't know the first thing about pop. The 27-year-old admits he was a complete musical snob. "I pride myself on my eclectic music taste," he explains with a big grin.

Growing up as a kid on his family's farm in country Victoria, 300 kilometers out of Melbourne, Axle's dad was a farmer, while his mum - who Axle describes as an "opera, jazz and ballet nut" - would always drag him and his two older brothers along to all sorts of live music shows. At home, someone would always be playing something like Bob Dylan or Paul Simon or Creedence Clearwater Revival on the stereo. At the age of 10, Axle discovered AC/DC and wouldn't play anything else for a while. As a teenager, he fell in love with jazz and country music. In his late teens, once he'd left the family home and moved to Melbourne to attend the prestigious VCA, he was introduced to the world of cutting-edge electronica.

So, Axle was happily travelling along, making a good living as a muso, when one day - just after getting back from a tour covering China's nightclubs, hotels and fun parks - a friend put him up to audition for a brand new television talent show called Australian Idol. Can't quite say "and the rest is history" because that cliché has never applied to Axle's life or career thus far. Axle thankfully didn't do that great in Idol - making it as far as the top 40 - but someone at the show's TV network, Network 10, immediately spotted Axle's potential and, out of nowhere, Axle was suddenly spending most of his time up in Sydney, hosting the most popular music television program in the country, Video Hits. "I got my ignorant musical blinkers off pretty quickly," Axle says about his introduction to the world of pop. From the moment he started on the show, Axle was suddenly interviewing and hanging out with some of the biggest names in modern popular music. For instance, his first couple of interviews included the Black Eyed Peas and The Dandy Warhols. "It really taught me the discipline of pop music and how hard it is to make good pop music," he says.

At the beginning of 2007, Axle moved back to Sydney to focus on launching an overdue recording career. Throughout his time at Video Hits, Axle was still playing gigs in Melbourne virtually every weekend. He'd also started co-writing with a few different songwriters in Sydney. So, Axle spent the first half of 2007 writing with various people, but he didn't meet his musical soul mate until about halfway through the year. American producer and songwriter, ROBERT CONLEY, is probably best known for his work with Darren Hayes, but he has also worked with the likes of Beyonce, Christina Aguilera, Carlos Santana, Ricky Martin and Celine Dion. Rob had just relocated to Australia and was introduced to Axle via his publisher and, yes, as they say, the rest is history....

Axle and Rob would prove to be a match made in musical heaven. "Straight away, from the drop of a hat, it was a connection that was unbelievable," Axle says. "We come from two different musical backgrounds but we just found this merger. We're really sensitive to each other's writing skills, sensitive to each other's musicianship, willing to put forward ideas. We both like taking musical risks, which is really exciting - to have someone who is going to push you and you push them". "Over a month, we wrote the bulk of the album. But this is only the first album. We're going to be writing plenty of more tunes together." Rob's fascination with electronica has helped give "LOSING SLEEP" a very modernistic edge. "Although our musical tastes might be completely the opposite, our appreciation of composition and the risk-taking thing has just been an amazing marriage, which is evident on the album," Axle says.

Nowhere is the blending of their various influences more apparent than on the album's title track, the ballad "Losing Sleep" - it's a country song but all the sounds are electronically programmed. Or Axle doing a jazzy vocal scat over the electronic riffing in the intro to the beautiful "Over To You Now". Or on the first single from the album, the ARIA top ten hit "I DON'T DO SURPRISES", which also hit the Number 1 spot on the Australian Artist Radio Airplay chart and Number 1 on the I Tunes Video Chart. Not only was 'I Don't Do Surprises' the first single to be lifted off the record, but it is also, in fact the first song that Axle and Rob ever worked on together. "Rob came up with that basic drumbeat, and I loved it," says Axle. "It reminds me of galloping horses, and being a country boy, I just thought that's awesome, just movement, charging, momentum. And that's the beat that we first started working with. And then we came up with different melodies and different lyrics".

The second single to be taken from the album is the catchy track, 'ANYWHERE', which is the perfect follow up to 'I Don't Do Surprises'. The video for anywhere was shot in Melbourne by Australian video director, Bart Borghesi. The single will go to radio in Australia on the 16th June, 2008.

Of the 12 tracks on "LOSING SLEEP", eight come from Axle's partnership with Robert Conley. "LOSING SLEEP" is a brave and beautiful debut album from a young artist who we are sure will soon be best known for his musical ability. And for all his past musical snobbery, Axle Whitehead couldn't be prouder with "LOSING SLEEP" as his debut solo album. "Not being known primarily as a musician, I think coming out with this is going to be rather exciting," Axle says.