Thanks to Betty Boop here is your chance to win one of 2 sets of Betty Boop Glamorous pyjamas valued at $87.80 including:

1 x Black nightie
1 x Black PJ pants
1 x Pink PJ Set
1 x Black and grey PJ set

* Set 1: Size 10 / Set 2: Size 14, please indicate size below.
Betty Boop Glamorous range


Live the glamorous life this winter with fun, flirty sleepwear from Betty Boop
Betty Boop Glamorous Flannel Pyjama Set

Snuggle up and enjoy a cup of cocoa in front of the fire with these super girlie, snuggly pyjamas in fairyfloss pink! Available in pink or Black & Grey.
RRP: $24.97
Betty Boop Glamorous Trapeze Nightie

Perfect for a girls DVD night! Sit back, relax and enjoy life with this comfy nightie featuring Betty Boop in one of her signature poses... divine!
RRP: $19.93
Betty Boop Glamorous Flannel Pyjama Pant

Keep warm and toasty in a pair of these soft pyjama pants with a licorice all-sorts inspired print. Mix and match with your favourite tee!
RRP: $17.93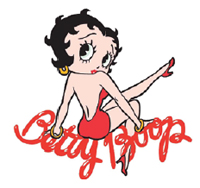 Why not spoil Mum for Mother's Day or just treat yourself... because you can!
The brand new Betty Boop Glamorous range is available from April 20 at Big W stores across Australia: phone 1300 244 999.