Thanks to Chrissy L and her new collection here is your chance to win a $200 Jewellery Pack including;

Soleil Cuff &
Grace Ring
Effortlessly glamorous - when too much is never enough!
The Label was born as an ode to a mother who beat the ultimate battle, cancer, and now in its 7th collection Chrissy L is now evolving into a label with a strong message for women worldwide - Love Yourself and Let the beauty within emulate.
The Cote D'zur Collection is a range of effortlessly glamorous pieces inspired by sunset cruises on the French Rivera fused with the "bling" of a Studio 54 extravaganza. With summer shades of Turquoise, Yellow and Black oversized gems set into an array of silver and gold casings, the pieces are bold and blatant yet truly understated as the wearer can easily mix, match and layer numerous pieces without being lost.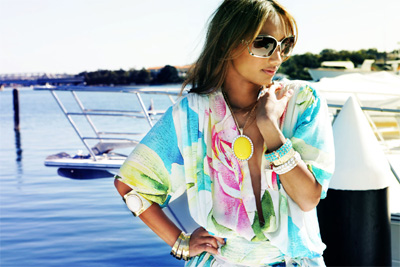 The bohemian edge combined with the signature Chrissy L "bling", allows you to take your look from night to day without ever having to sacrifice your statement or style. The Cote D'zur range is reminiscent of faraway places that breathe indulgence; think Monaco nights and Parisian days filled with the ambience of candlelit champagne breakfasts and sunset canapés.
Designed with the ability to be mixed and worn together, you can only ever get it right. Layering the collections various pieces with each other, you are enabled to dress simply and accessorise fabulously giving you the ability to keep it simple whilst oozing elegance, class and simply irresistible glamour.
Again Chrissy L has come to the market with a range that embodies the essence of old time glamour with the versatility of the modern woman. Cote D'zur is the embodiment of French Chic and the hottest range to be wearing this summer!
The 7th Collection also introduces Jen De Leon to the fashion stage, sister to Kathleen (Former HI-5 and also Musical Performer appearing most recently in Miss Saigon) - Chrissy L is hitting a whole new market!
www.chrissyl.com.au