Thanks to Clinique and their Virtual 3-Step Dance Party, here is your chance to win one of 3 x Clinique 3-Step Skincare Packs valued at $131.00 each.
* Great Skin
* Great Cause
* Great Dance












Clinique 3-Step
Say Yes to Great Skin. Just 3 products, 3 minutes, twice a day - it's that easy.
Cleanse. Exfoliate. Moisturise.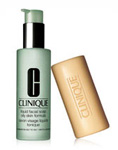 Step 1: Facial Soap Bar or Liquid.

This non-drying formula cleans gently, thoroughly. To cleanse, lather Clinique Facial Soap over face. Rinse with tepid water and pat dry. Follow with Clarifying Lotion.




Step 2: Clarifying Lotion

The difference-maker. Exfoliates to bring brighter, smoother skin to the surface. A gentle tingle tells you it's working. Apply Clarifying Lotion with a cotton ball after cleansing with Clinique Facial soap. Sweep gently over face and neck, avoiding eye area and lips. Available in five different strengths, one for every skin type.




Step 3: Dramatically Different

Moisturizing Lotion or Gel Softens, smooths. Maintains skin's optimal moisture balance. Apply Dramatically Different Moisturizing Lotion or Gel over face and throat all over, or just where needed. Oilier skins may need to apply lotion or gel only on drier areas, like the eyes and neck.


At Clinique, we believe any skin can be great skin.


Step into Great Skin for a Great Cause
For every person who joins the Clinique 3-Step Party,Clinique will donate $1 to the You Can charity helping fightyouth cancer. Help us work towards opening up specificcancer centres for teenagers with cancer by starting yourown 3-Step Dance Party. For every one of your friendswho joins, Clinique will also donate a dollar - it's that easy!

Join the Virtual 3-Step Dance Party and help support You Can, a nonprofit organisation dedicated to helping teens with cancer.www.clinique3stepdance.com.au