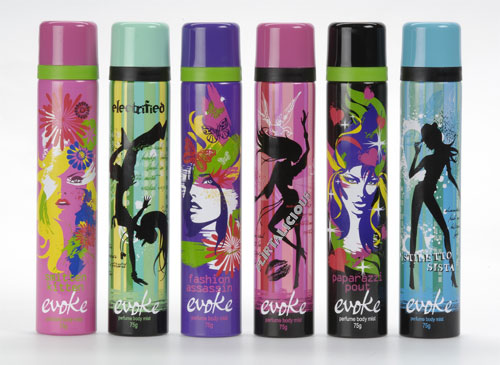 Enter for you chance to win one of 6 packs including all six Evoke Bodyspays;

Smitten Kitten, Electrified, Fashion Assassin, Flirtalicious, Paparazzi Pout, Stiletto Sista.

Evoke bodysprays are punky, spunky body sprays, for girls who like to party on the wild side and don't care what others think! Goody Two Shoes need not apply!

They are not for wall flowers, they are for girls with talent to spare!

New look, new attitude ... For mischief-makers!

Hitting the stores in 3 wicked, attention-demanding fragrances for girls who flaunt their original style.

Lose your inhibitions and try them if you dare.






Try these seriously wicked fragrances!

Smitten Kitten - A blackberry and raspberry mix on a rich woody base.

Electrified - A fruity cocktail of melon and peach

Fashion Assassin - A floral bouquet of the most exotic scents.

Flirtalicious - Fresh sparkling fruits on a musk background

Paparazzi Pout - The original illicit musk fragrance.

Stiletto Sista - A mush wood blend with a light floral touch

RRP: $4.29

Available through Coles, Kmart, Priceline, Woolworths and selected independent supermarkets and pharmacies.
For stockists call 1300 650 981.