Thanks to Moose Toys here is your chance to win one of 8 x Geleez Designer Studio Packs valued at $30.00 each.
GELEEZ YOUR WORLD!
Introducing Geleez - the only stickers you can paint, peel and place anywhere to decorate and personalise your world! Available this September from Moose Toys.Locally developed by leaders in the Arts and Craft category, Moose Toys, Geleez specially formulated stickers peel off with no mess or fuss and can be re-stuck again and again!
With Geleez, you can be as creative as you want to be! Select your sticker from one of the three cool themes - Nature, Underwater and Funky Fun, paint with the original or glitter style paints and then peel and place on any smooth surface - notebooks, laptops, lockers, lamps, even your walls!
Decorate and personalise your world with the super cool and unique Geleez!
For Girls 6+ Geleez are available from all good retailers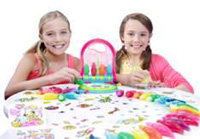 Geleez Scene Pack- RRP: $9.99


Start decorating your world with 6 styles available across the three Geleez themes- Funky Fun, Underwater and Nature. Each pack contains;
· 4 x Sticker Sheets
· 2 x Original Paint Pens
· 1 x Glitter Paint Pen
Geleez Activity Pack- RRP: $19.99


Create unique Geleez designs and complete cool activities to collect or give to your friends. Each pack contains;
· 8 x Sticker Sheets
· 3 x Original Paint Pens
· 2 x Glitter Paint Pens
· 1 x Marbling Tool
· 1 x Swing Tag
· 1 x Birthday Card
· 1 x Activity Booklet
Geleez Designer Studio - RRP: $29.99


Use the studio to easily style your stickers and embellish your designs with gems and decorative pieces. Each pack contains;
· 1 x Designer Studio
· 6 x Sticker Sheets
· 3 x Original Paint Pens
· 1 x Gli-er Paint Pen
· 1 x Marbling Tool
· 12 x Gems
· 6 x Embellishment pieces
For more on the Moose Toy Range visit
www.mooseworld.com.au