Gypsy Rose Guitars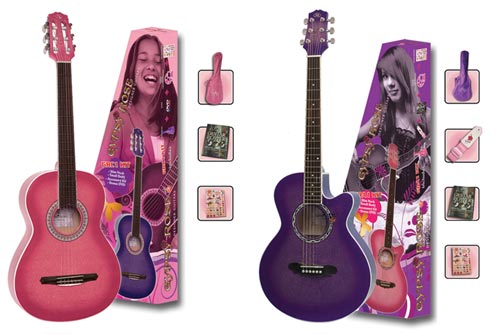 Thanks to Gypsy Rose Guitars here is your chance to win either a:


Gypsy Rose Classical Guitar - Sugar Pink or

Gypsy Rose Acoustic Guitar - Stardust Purple
Why should the boys have all the fun? Girls love music too! Play it your way now with a great guitar, specially designed with you in mind. Featuring smaller 7/8 size bodies and slim neck design, Gypsy Rose girl guitars feel more comfortable and are easier to play.

Do you dream of being a rock goddess, a pop princess, or maybe you just want to make your own music and songs? Gypsy Rose has a guitar that's just right for you.


Gypsy Rose - Guitars for girls




There's a great range for you to choose from in sparkling metal flake colours: sugar pink, stardust purple and starlight black. Every Gypsy Rose guitar comes with a fantastic accessory pack comprising of a colour coordinated carry bag, terrific sticker kit with plenty of colourful stickers for you to decorate and create your own designer look guitar, plus a BONUS SX 'Guitar Power' DVD featuring the Rock House Guitar Method including free lifetime web membership for lesson support, downloads and more. The acoustic, electric and bass models also include a matching guitar strap. Everything you need to start playing great music now!


Gypsy Rose Classical Guitar
As classic as it's styling. Nylon strings are comfortable under your fingers and together with the thin neck make it easier to learn and develop your guitar playing ability. This guitar produces a beautiful clear and mellow sound, great for classical playing, singalongs with your family and friends, or just strumming in your bedroom. Pick one up and have a play at your nearest Gypsy Rose dealer.
RRP: $119



Gypsy Rose Acoustic Guitar
A bright and strong sound with sparkling clarity. A slimmer neck makes it easier to move up and down the fretboard, so you can accelerate your skill level. The cutaway design provides the flexibility to play any of your favorite music styles and play the highest notes with comfort and ease. Perfect for strumming or fingerpicking, get one in your hands and feel the passion!
RRP: $159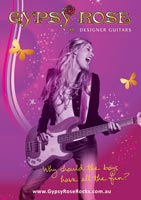 Enter now and be one of 2 lucky readers will win one of these great guitars and then it's your turn to join in the fun and play your own music just the way it should be!
Available from all good music stores.
www.GypsyRoseRocks.com.au
www.musicdirect.com.au