Thanks to the release of the highly anticipated Liv Fashion Dolls here is your chance to win one of 4 Liv Fashion Dolls including; Sophie, Daniela, Alexis & Katie.
Liv in our world!


Liv is a brand new collection of fashion dolls with accessories, fashions, carry case and playsets plus a whole online world to explore.
Daniela, Sophie, Katie and Alexis are four engaging teenagebest friends. They are fun and funny, with distinct personalitiesand imperfections they are not afraid to laugh at. They live thesame life as average teenagers, dealing with every day ups anddowns that girls everywhere can relate to. These girls are can-doteens with a great sense of humour.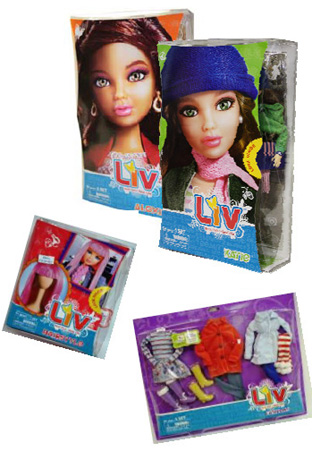 Each Liv doll features 3D sculpted short hair and two funky interchangeable wigs to instantly switchhair styles and colours or for an instant 'new look' simply cut, curl or style the wig. With 14 points ofarticulation for greater pose ability, Liv are also free standing (perfect for impromptu fashionparades) and have real looking eyes. Plus there are stacks of detailed realistic accessories and up-to-date fashions to collect.
The Liv girls do everything that girls love to do - and now you canhang out with them in real life and on line. The cool LivWorldextends your doll play into a whole new virtual world that allowsyou to become part of the Liv girls lives!
The online world offers unique games and activities, andencourages girls to share their online creations with friendsat
www.livworld.com
Liv: Real Girls o Real Life - the launch collection:
o Four Liv Dolls each come with two wigs (RRP$39.95 each)
o Hair Style Packs - 'Sleek' or 'Colourful' wig packs (RRP$14.95 each)
o Fashion Packs - 'Cool', 'Chill' or 'Sparkly' fashions with three unique outfits ineach pack (RRP$24.95 each)
o Accessories Packs - 'Sparkly', 'Cool' or 'Wild' accessories in eachpack (RRP$14.95 each)
o Salon Studio - Hair styles, hair extensions, styling chair and heaps of fun hairaccessories (RRP$39.95)
o Carry Case: 2 in1 - A great place to store all your cool Liv pieces plus itopens out into a photoreal Liv bedroom (RRP$39.95).
o Website - Webisodes, blogs, games about the Liv girls plus a virtualscrapbook, audio blog, Liv avatar and closet, comic maker and jib-jabvideos. Visit
www.livworld.com
The Liv range is available at all major retailers and independent toy stores. For customer
enquiries or more stockist informationplease contact Funtastic's free-call Customer Care Line on 1800 244 543.
Descover more about the characters behind the the Liv Fashion Dolls -
www.girl.com.au/liv-fashion-dolls.htm