Thanks to the release of Moxie Girlz, here is your chance to win one of 5 x Moxie Girlz 'Jammaz' Doll packs valued at $34.99 each.
Introducing a unique range of dolls that are going to have girls all over Australia singing, dancing, designing and most importantly believing that they can do ANYTHING!
These aren't just any ordinary dolls - Moxie Girlz have a purpose and they want to show every girl out there that with a positive attitude and the courage to go for it, they can reach for the stars! Moxie Girlz are full of energy and stylish in their own crazy way because it's OK to be different and stand out!
Meet
Avery, Sophina
and
Lexa
, the inspirational Moxie Girlz that are here to encourage young girls to stay true to themselves and do something amazing! These 3 girls are sure to ignite a passion for creativity and individuality, by giving young girls the confidence and courage they need to achieve their goals.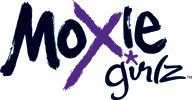 Moxie Girlz are available now at all major retailers, including Myer, David Jones, Target, Big W, K-Mart, Toyworld, Toys R Us and all good toy stores nationally.
www.moxiegirlz.com.au
for games.