Thanks to Q magnets here is your chance to win one of 2 sets of Q magnets valued at $199 each, and manage your pain relief naturally. Includes:2 X ProQ Silver
1 X PlusQ Silver
10 X QfixPro
1 X QFixMini
6 X MiniQ
1 X Q Separator
1 X Q Bag
PAIN RELIEF secrets now discovered.
* Powerful neuromagnets, unlike anything you have ever seen
* New innovative technology with guaranteed results
20% of the population suffer from chronic pain and 7% live with debilitating pain.
"Pain affects a person physically, psychologically and environmentally and destroys all aspects of individual and family activities". Professor Michael Cousins
Founder of Women's Network Australia, Lynette Palmen AM knew only too well how pain can ruin your life. Suffering from a spinal injury, Lynette had regular stints in hospital with debilitating pain. But by using a combination of therapy from her chronic pain physiotherapy guru Dianne Hermans and self treating with Q magnets she has lived a relatively normal life for the past 9 years. She managed to avoid risky spinal surgery and now travels extensively with her national organisation.
Chronic persistent pain can be very difficult to treat, medication works well in some cases but has dangerous side effects with long term use. Then there is professional treatment which is expensive and unproven therapies which are sometimes worth a try but rarely work.
Q magnets (Q for Quadrapolar) are an Australian invention of a single magnetic body comprised of four alternating poles or quadrants.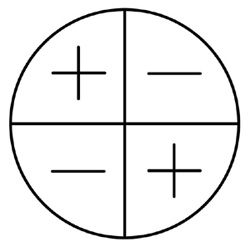 The boundary between each alternate pole is where the Q magnet generates steep field gradients which give it its pain relieving properties. Over 10 years of research by neurologists at Vanderbilt University Medical Center demonstrated that steep field gradients have an
effect on interrupting the pain signal
that is not shared with the common bipolar magnet. That is why, "if you haven't used a Q magnet for pain relief, you have yet to harness the true therapeutic properties of a static magnetic field". Just like the MRI, before scientists were able to harness field gradients and scanning technologies, imaging was unattainable.
To understand
how Q magnets work
, it helps to understand how pain is interpreted. Pain results from dysfunction of one or more areas of the nervous system. After an injury, a combination of chemical and electrical events occurs locally at the site of injury. These chemical and electrical events generate messages that are sent through the central nervous system or "hard wiring" of the body to the brain.
If this goes on for more then 3 months, the injury is said to become chronic, where the nerves can get stuck in this overexcited state and continuously fire pain messages. Q magnets seem to work on these overexcited nerves and help turn off the signal. Once free of pain the individual can begin to restore function and strengthen the surrounding muscles, which is best done under the guidance of a therapist.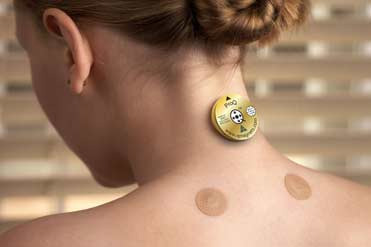 Q magnets can be used for common aches and pains of daily living such as headaches, neck pain, jaw pain, tooth pain, shoulder pain, upper and lower back pain, elbow and wrist pain, hip, knee and ankle pain. The device is most effective when it is placed over the area of abnormally functioning pain fibres and/or centrally where nerves insert into the spine.
Published studies and clinical experience show that Q magnets are effective in the management of acute and chronic, musculoskeletal and postoperative pain.
More on Q Magnets -
www.femail.com.au/q-magnets.htm
"Q Magnets are incredible, they effectly relieved my ongoing pain so I didn't have to take pills anymore. Takes the pain away naturally." - Femail.com.au Editor