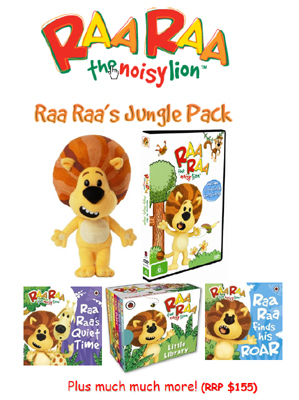 To celebrate the release of the new DVD, Beyond Home Entertainment is offering you the chance to win a Raa Raa's Jungle Pack valued at $155.00, including all things Raa Raa including the new DVD, talking plush toy and books (plus much, much more).
What's all that noise?...it's Raa Raa the Noisy Lion! From the makers of Roary the Racing Car and Little Charley Bear, Raa Raa is a new favourite series for pre-schoolers and is set to make a huge ROAR! in Australia.

The first release of the new series is titled RAA RAA THE NOISY LION: WELCOME TO THE JINGLY JANGLY JUNGLE and is available from the 6th June, 2012 on DVD (RRP $19.95).