To celebrate the release of Tinkerbell and the Lost Treasure on DVD, Walt Disney is giving you the chance to win one of 2 packs including:

* Tinker Bell DVD
* Tinker Bell and the Lost Treasure DVD
TINKER BELL and the LOST TREASURE
In 2008 audiences around the globe re-discovered and fell inlove with one of the world's most iconic characters when WaltDisney Studios Home Entertainment launched Tinker Bell, thedebut film in the exciting new 'Disney Fairies' movie series.
Releasing on 11 November 2009, the enchanting pixie-dustedmagic and fun continues with even more action-packedadventure, as Tinker Bell and the Lost Treasure takes Tinkfar beyond Pixie Hollow in an original full length animated filmon Blu-ray Combo Pack (Blu-ray +DVD) and standarddefinition DVD.
In the original Tinker Bell, fans heard Tink's voice for the veryfirst time, and through her fabulous fairy friends explored theworld of Pixie Hollow. Produced by DisneyToon Studios,Tinker Bell and the Lost Treasure is the highly anticipatedsecond film in the continuing Disney Fairies Franchise and acaptivating story that builds on Tinker Bell's popular adventuresthrough breathtaking animation, spectacular music and an allstarcast of voice talent.
In Tinker Bell and the Lost Treasure, Tinker Bell's greatest adventure yet takes place in Autumn, as thefairies are on the mainland change the colours of the leaves, tend to pumpkin patches, and help geese flysouth for the winter. The rare Blue Moon will rise, and when its light passes through the magical Fall Scepter that Tinker Bell has been summoned to create, Pixie Hollow's supply of pixie dust will be restored.
But when Tinker Bell accidentally puts all of Pixie Hollow in jeopardy, she must venture out across the seaon a secret quest to set things right. Along her journey Tink meets new friends, including Blaze, a cute andcourageous firefly who helps Tinker Bell complete her mission.
It's a long and dangerous journey, full of astonishing encounters, a few narrow escapes and a daring rescueby Tink's friend Terence. Tinker Bell and the Lost Treasure is an exciting adventure and a once-in-ablue-moon experience for the entire family.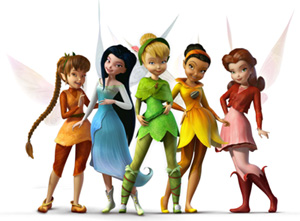 Voice talent
:
Mae Whitman (Tinker Bell)
Jesse McCartney (Terence)
Eliza Pollack Zebert (Blaze)
Angela Bartys (Fawn)
Raven-Symoné (Iridessa)
Kristen Chenoweth (Rosetta)
Lucy Liu (Silvermist)
Anjelica Huston (Queen Clarion)
Pamela Adlon (Vidia)
Grey DeLisle (Lyria / Viola / Narrator)
Jeff Bennett (Clank / Short Troll / Fairy Gary)
Jane Horrocks (Fairy Mary)
Director
: Klay Hall
Producer
: Sean Lurie
Art Director
: Ellen Jin Over
Genre
: Animation/adventure/family/fantasy
Tinker Bell is thrilled - she has been selected to create the prestigious Autumn Scepter to commemoratethe rare Blue Moon. Her friend Terence, while trying to help Tink, only gets on her nerves, which leadstemperamental Tink to explode in frustration. Her angry words shatter their friendship, and in the midst ofher rage Tink accidentally destroys the scepter's fragile moonstone. To fix the moonstone Tink mustembark on a perilous quest for the enchanted mirror of Incanta, but on this journey Tink discovers there isno greater treasure than a true friend.
Tinker Bell and the Lost Treasure is the all-new magical adventure that takes Tinker Bell beyond PixieHollow. Discover how the Pixies make their magic dust and let your imagination soar as Autumn comes toPixie Hollow. Take off in a hot air balloon with Tinker Bell and her new friend Blaze, a lightning bug wholights her way, on an enchanting secret journey to find a new moonstone, the source of the Pixies mysticaldust. But hold on tight as there'll be amazing encounters, some close calls, and a daring rescue by her oldfriend Terence.
In her biggest adventure yet, Tinker Bell not only learns a lesson in responsibility, she discovers the truemeaning of friendship. Along the way Tink reunites with all her fairy friends - including Rosetta,Silvermist, Iridessa and Fawn - and meets new friends, Terence, a boy fairy; and Blaze, a cute andcourageous firefly; who help Tinker Bell complete her mission. From the creators of Tinker Bell, TinkerBell and the Lost Treasure is a captivating journey of self-discovery everyone will want to take.
DVD & BLU-RAY BONUS FEATURES:
Tinker Bell and the Lost Treasure will magically transport viewers to the magical world of Pixie Hollowthrough an array of captivating bonus features, including:
· Outtakes: Never-before-seen scenes.
· Fairy bloopers: Fairies make mistakes too!
· Magical guide to Pixie Hollow: Explore the Magical Guide, this time in the autumn area of PixieHollow.
· Pixie preview: Exclusive animated vignette featuring Tink and her friends.
· Deleted scenes: With Filmmaker's intros.
· Pixie Hollow comes to Florida: Discover how the filmmakers help transform Epcot Center intoPixie Hollow.
· Music and more: The Gift of a Friend music video with Demi Lovato.
Available now on DVD & Blu-ray
RRP: $39.95
RRP: $49.95 - Blu-ray Combo Pack (Blu-ray + DVD)
Order Now from Sanity
www.girl.com.au/daylight-savings-with-tinkerbell.htm