Interview with Craig Stott on East of Everything
Did you know when you began acting that it was for you?
Craig Stott
: At aged 10 I started acting. I began amateur theatre and local plays, that was my creative outlet. That was after I tried every Australian sport there is, thanks to my Dad. He was trying to find a sport that was right for me. I got into theatre, just small plays and loved it and then found I could make a career out of it.
Can you relate to your character Josh Walkins?
Craig Stott
: Absolutely! He wants to be independent, and that's me all over. At the moment I'm looking to move out. Not because of family problems but because I want my own freedom and that's what Josh is about. He may not be, but he seriously wants his independence. That's why 'East of Everything' is great, it's such a parallel, and the audience can find a parallel to their family.
Is it easy to play Josh because of that?
Craig Stott
: Yes definitely, being able to stay true to your character is important.
The show is meant to relate to the difficulties that everyone faces in life. Can you relate to any of them?
Craig Stott
: Definitely the issue of not belonging, not knowing your identity and having to try on many masks throughout life to find yours. It shows the issues of family and the separations and the feeling of abandonment. That's why the show has done so well, as you can watch and accept a parallel.
What is a typical day in the life of you?
Craig Stott
: Basically at the moment I just get up and go for a run and then track to my best mates house. I'll usually go out on a Friday or Saturday night. Although since I've turned 18 I don't have that same desire to go out as I did before I was 18. It's funny how you wait and wait to turn 18 and then when you turn 18 you'd rather grab a movie and stay in.
What is your favorite part of 'East of Everything'?
Craig Stott
: Probably working with such a respectable cast. Who have worked in Australia and overseas. And have developed a name for themselves overseas. I am enjoying learning from people that have more experience. They are Australian legends. Also the location of 'East of Everything'. Set in Byron Bay, geographically it was incredible. The climate was great and when you live somewhere for a period of time you develop their culture. After four months we had developed the culture of Byron Bay. That surf culture.
Would you rather act in movies or television dramas?
Craig Stott
: Can't really say. I enjoy them equally. It really depends on how well they are written and how well rounded they are. 'East of Everything' is so well written. In a film it's generally a journey that you can develop with one thing over a period of time. With TV it depends on whether the writing is decent.
Do you get recognized by the public?
Craig Stott
: Not recently no. That's not why I am an actor. It's a career, and that's I'm doing it for. I'm not a public figure. I don't want to do photo shoots. I respect actors like Sean Penn and Cate Blanchett that basically go into hiding after they have finished filming. It's not about fame for me.
How do your friends react to seeing you on tv?
Craig Stott
: Funnily. I get messages in my phone from people that I haven't heard from in three years. I get messages saying "nice butt" from numbers I don't even have saved in my phone.
Are you doing anything else other than 'East of Everything' at the moment?
Craig Stott
: Yes, I finished just 'Vapor Boys'. Shooting in and around Melbourne for a month. It's about four boys who move into an abounded house, who are from semi-affluent families. They plot a crime that ultimately ends in their demise. It's actually a really interesting film. Other than that I'm just enjoying a break. I did just finish another 'McLeods Daughters' episode and just back from working on 'East of Everything'. Yeah. But just enjoying a break at the moment.
What has been your greatest achievement since your began acting?
Craig Stott
: 'East of Everything'. Especially because there is a series two option. Being away from home for four months taught me a lot also. It put into perspective family values and I saw the 'real world'. The series got a great report so the crew became locals of Byron Bay and we were treated like locals, which had great benefits.
Where your aspirations are for the future?
Craig Stott
: Keep doing this. Ride it as long as it goes. Hang out with people I know and love and work with the best and keep learning. At the moment I'm just having a break and being with the people that are important to me. After four months away from home you realise who is important and who you love. I just want to be with them at the moment.
* Interview by Brooke Hunter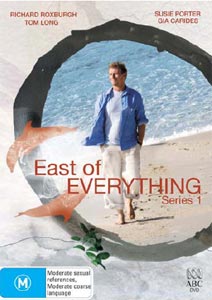 East of Everything
Sometimes the road back leads to paradise


From famed director Deborah Cox (Seachange) comes ABC TV's ratings winning East of Everything, starring Richard Roxburgh and Tom Long.
Having spent most of his professional life wandering the globe in search of paradise, travel writer and prodigal son Art Watkins (Richard Roxburgh) rushes home, too late, to be by his dying mother's bedside. Here, he is re-acquainted with the Far Out East - the once idyllic tropical resort owned and operated by his head-strong mother - which has become nothing more than a series of neglected beach shacks.
In this sad scene of decay and regret, Art is also confronted by his younger brother Vance (Tom Long), who has nursed their mother through her difficult final years.
To most, the Far Out East would mean paradise. To Art, it means an ex-fiancée (Susie Porter), a teenage son he hardly knows and a place to be escaped once he has paid his respects. To Vance, it's a gilt-edged real estate opportunity that he and his scheming girlfriend (Gia Carides) can hardly wait to exploit.
But there's a twist in the brothers' tales as their dead mother Nancy makes one last posthumous attempt to re-unite her fractured family. Nancy's will dictates that the brothers must re-open the 'Far Out East' by the time of her grandson's next birthday, or lose the property entirely.
East of Everything is an irresistible drama series with an edge of humour, a heightened sense of serendipity and a perfectly stellar cast. At it's core, East of Everything is about people navigating a difficult world with compassion and a degree of humour - and, in particular, it is about men struggling to redefine their roles as fathers, brothers and sons at a time when the more troubling effects of the 'absent father' are rippling strongly through generations.
This 2-disc set includes the entire series, plus 'The Making of East of Everything' featurette and trailer.
RRP: $39.95 2-disc set
Order Now from Chaos
Order Now from Sanity