Disney On Ice presents Let's Celebrate!
Make an ordinary day extraordinary when
Disney On Ice presents Let's Celebrate!
brings more than 50 Disney characters, to Australia for one colossal party on ice! This action-packed, all-new show features a magical montage of celebrations and is set to a blend of contemporary music and favorite Disney songs.
Produced by Feld Entertainment,
Disney On Ice presents Let's Celebrate!
is opening in
Wollongong on 14 June and travels to Newcastle, Brisbane, Melbourne, Sydney and Adelaide until 22 July
.
Join
Mickey Mouse
and
Minnie Mouse
as they celebrate a Very Merry Unbirthday Party with
Alice
and the
Mad Hatter
; Mardi Gras with
Princess Tiana
and
Prince Naveen
; a Royal Valentine's Day Ball with the
Disney Princesses
; a Hawaiian luau with
Lilo & Stitch
; a winter wonderland with
Woody, Jessie
and
Buzz Lightyear
; a Halloween haunt with the
Disney Villains
and more in the celebration of the century.
Disney On Ice presents Let's Celebrate!
is sure to be one action-packed and positively unforgettable celebration!
"
Disney On Ice presents Let's Celebrate!
gives families a reason to celebrate no matter what time of year it is," says Producer Kenneth Feld. "This uplifting and unforgettable spectacle showcases different celebrations around the globe, and families will walk away remembering to celebrate the everyday joys and successes in their lives."
"Audiences are going to love this colossal celebration," says Producer Nicole Feld. "We take the most exciting holidays and special events and pack them into one monumental show. You can travel the world in style and experience all the fun and excitement with your favourite Disney characters, including Princess Tiana."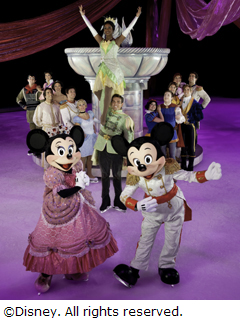 Ticket Prices: Starting at just $28.50 for B Reserve, to $69.50 for Front Row Seats (Group and Concession prices also available for nominated shows).
Disney On Ice presents Let's Celebrate!
2012 National Tour Dates

Wollongong
- WIN Entertainment Centre 14 - 17 June (Thurs - Sun)
Newcastle
- Newcastle Entertainment Centre 21 - 24 June (Thurs - Sun)
Brisbane
- Brisbane Entertainment Centre 28 June - 1 July (Thurs - Sun)
Melbourne
- Hisense Arena, Melbourne 4 - 9 July (Wed - Mon)
Sydney
- Allphones Arena, Sydney Olympic Park 11 - 16 July (Wed - Mon)
Adelaide
- Adelaide Entertainment Centre 19 - 22 July (Thurs - Sun)
Purchase tickets from Ticketek: 132 849 or
www.ticketek.com.au/disneyonice
For more information on
Disney On Ice presents Let's Celebrate!
visit
www.disneyonice.com.au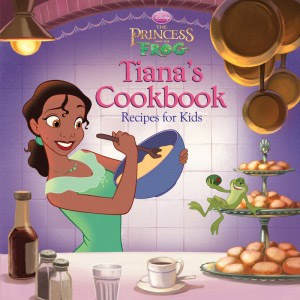 Australia has welcomed some of the world's most famous chefs to our shores - Heston Blumenthal, Jamie Oliver, Gordon Ramsey, Wolfgang Puck and more. This June however, perhaps one of the most famous of all will visit - chef, restaurant owner and role model worldwide, Princess Tiana will visit Australia for the first time to star in Disney On Ice presents Let's Celebrate!
Tiana is the lead in Walt Disney Pictures' The Princess and the Frog. She is a waitress and aspiring restaurateur and chef living in the French Quarter of New Orleans during the Jazz Age. Hers is the story of trying to fulfill her late father's dream, which leads her on adventure through the bayous of Louisiana. Tiana falls in love with a Prince and eventually proves herself to be a princess because of her heart. She is Disney's 9th Princess and the first African-American princess, and is proving to be an incredible role model.
Interview with Princess Tiana
Question:
Do you have a nickname?
Princess Tiana
: Well, my best friend Lottie has called me "Tia" ever since we were little girls.
Question:
What are you know for?
Princess Tiana
: I guess you could say I'm known for my cooking. Especially my homemade beignets - Lottie's father, Big Daddy LaBouff, says they're the best in all of Louisiana.
Question:
Where is your current residence?
Princess Tiana
: Where I've lived all my life: New Orleans. I love being close to my mama and all my friends.
Question:
Can you tell us about yourself?
Princess Tiana
: Goodness, I'm just a Southern girl who was raised in a home full of love. I was lucky enough to get to follow my dream and make a whole bunch of wonderful friends along the way!
Question:
Who is your love interest?
Princess Tiana
: That one's easy. The love of my life is my husband, Naveen. He's always wanted to make my dreams come true. And oh, can he make me laugh! You know, he's mighty handsome, too.
Question:
What are your hobbies?
Princess Tiana
: Before I got my restaurant, it seems like all I ever did was work and cook to save up enough money to open up my own place. Now, I still love doing those things, but I try to take more time for fun stuff like dancing, singing, and spending time with my family and friends.
Question:
What do you never travel without and why?
Princess Tiana
: I always take a picture of my daddy with me wherever I go. He taught me so much about the value of hard work and bringing folks together. And he always inspired me to follow my heart.
Question:
Where is your favourite holiday destination?
Princess Tiana
: Why that'd be Naveen's homeland, Maldonia. It's very different from New Orleans, but it's absolutely beautiful!
Question:
If you were to travel to Australia - what do you think you'd look forward to most?
Princess Tiana
: Well, I just love meetin' new people and seein' new things. It sure would be exciting to see the sights and make some new friends. And of course, I'd want to try some of the amazing food y'all have Down Under. I hear there's some kind of yeast you put on toast. Goodness, we sure don't have that in New Orleans!
Question:
Why is it important to care for our environment and how do you do your part?
Princess Tiana
: Well, the bayou's right next to where I grew up, and there's not much that's prettier than a night under the live oak trees with the frogs singin' and the fireflies glowin'. Of course, you could say I have a bit of a soft spot for frogs! But some of my closest friends, like Louis and Mama Odie, still live in the bayou, and the thought that their home - or anyone else's - could be in danger is heartbreaking. So I just try to do right by them.
Question:
What is your favourite celebration of the year?
Princess Tiana
: I'm sure this won't surprise you, but I just love Mardi Gras! I don't think y'all celebrate it in Australia, but here in New Orleans we have the most amazing parades, and parties, and all sorts of delicious Cajun and Creole food! I can't tell you how much fun it is!
Question:
What is your favourite type of food?
Princess Tiana
: I guess my favourite thing to cook is gumbo. I make it in the pot my daddy gave me when I was a little girl. But any cooking is delicious when it's made with love, and shared with friends. That's what I like most about food: it brings people together.
Question:
Do you have any advice for kids who want to be a chef when they grow up?
Princess Tiana
: I'd say start practicing right now! Be sure you've got the freshest ingredients, and just keep trying things till they're exactly how you like them. If being a chef is your dream, then don't you ever give up on it.
Question:
What advice do you have for little girls who look up to you and your achievements?
Princess Tiana
: Well, I think it's real important to work hard for what you want in life. But you have to have a dream first - so finding that dream, and knowing what you love and love to do, is both important and wonderful! And be sure to open up your heart to all the amazing possibilities there are out there in the world.
Princess Tiana's Famous Beignets
Source: The Princess and the Frog - Princess Tiana's Cookbook
Princess Tiana revealed her favourite recipe to be the famous Beignets, square doughnuts with no hole, a French inspired recipe passed to her from her father in New Orleans.
Ingredients
3 cups flour
1/3 cup sugar
2 teaspoons baking powder
½ teaspoon baking soda
½ teaspoon salt
½ teaspoon nutmeg
1 cup buttermilk
1/3 cup water
1 egg, beaten
½ teaspoon vanilla extract
Vegetable oil, for fryingConfectioners' sugar, to dust
Method
In a medium bowl, combine 2 ¾ cups of the flour with the sugar, baking powder, baking soda, salt and nutmeg. Whisk everything together.
In a large bowl, whisk together the buttermilk, water, egg, and vanilla extract. Stir in the flour mixture from step 1.
Use some of the remaining flour to dust your work surface. Place the dough on it and pat into a large ½ -inch-thick square. Dust the top with more flour if gets sticky. Next, slice the dough into 2 ½ inch squares.
Now it's time to fry the beignets- be sure to ask an adult to help you! Heat 2 inches of vegetable oil in a heavy saucepan on the stovetop until the temperature reaches 325° on a deep-fat thermometer. Check the temperature every so often while cooking. If it gets too hot, temporarily turn the heat down, or off.
Carefully drop 3 dough squares at a time into the hot oil. Fry them for 3 minutes, turn them over, and continue frying for 3 more minutes. Use a slotted spoon to transfer the beignets with confectioners' sugar, and enjoy!