Five times the fun in one Amazing Journey!
Join Mickey and Minnie on a sightseeing tour of the imagination as they travel to five exciting destinations all in one action-packed ice show!
Disney On IceSM presents Mickey & Minnie's Amazing Journey
You will be transported from your seats to Peter Pan's enchanting Neverland, go on an African safari with the Lion King, immerse yourself under the sea with the Little Mermaid, dance an Hawaiian luau with Lilo & Stitch, and travel to London with all 101 Dalmatians.
Disney On IceSM presents Mickey & Minnie's Amazing Journey
features an international team of award-winning figure skaters, high-energy choreography and a colourful set that captures all five unique worlds. This adventurous journey through some of Disney's most beloved stories will fill the arena with magic and music the whole family will enjoy.
Each scene brings the story to an unusual and inviting new location, including a dreamy London cityscape and a colorful tropical island. These elements appeal to the senses and bring the picture-postcard worlds within the arena to life.
"It's an extraordinary show, an adventure through imagination and a family vacation all rolled into one incredible night," says Producer Kenneth Feld. "You really get a sense you are traveling right alongside Mickey, Minnie and their friends. At the end, without ever leaving your seat, you feel like you've toured London, taken a dip in the sea and enjoyed a Hawaiian luau."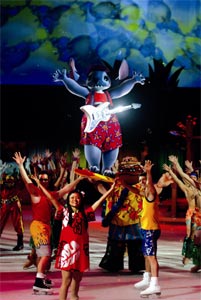 Each destination has its own mood and lighting. The foggy London skyline that can be seen from the Darling children's window soon changes to the mysterious forest where Peter Pan and the Lost Boys live in their treehouse, while Lilo and Stitch cavort surfside surrounded by tropical sunlight and foliage.
Costume Designer Arthur Boccia has assembled specific and appealing looks for all the Disney locales. Creatures and characters along the way sport everything from nightgowns to grass skirts to fur coats. Dozens and dozens of black-and-white spotted Dalmatians give way to Triton's fin-clad daughters. Musically,
Disney On IceSM presents Mickey & Minnie's Amazing Journey
combines familiar tunes from Disney's Peter Pan, The Lion King, The Little Mermaid and 101 Dalmatians along with new favorites from Disney's Lilo & Stitch and some classic rock-and-roll songs that the whole family will recognize.
"Not only is this show a journey to many Disney destinations, it is a journey of emotions," says Director Jerry Bilik. "From the high-flying, daring adventures of Peter Pan to the antics of Sebastian, from the warmth of 101 Dalmatian puppies to the relationship between Lilo and Stitch, the audience will experience excitement, humor, friendship and much more."
For more information on
Disney On IceSM presents Mickey & Minnie's Amazing Journey
visit
www.disneyonice.com.au
NATIONAL TOUR DATES
WOLLONGONG - (WIN Entertainment Centre) - 18th to 22nd June

BRISBANE - (Brisbane Entertainment Centre) - 25th to 29th June

MELBOURNE - (Rod Laver Arena) - 2nd to 7th July

NEWCASTLE - (Newcastle Entertainment Centre) - 10th to 13th July

SYDNEY - (Acer Arena) - 16th to 27th July

TICKET PRICES

* VIP rinkside: $54.50
A Reserve: $37.50 - $44.50
B Reserve: $21.50 - $24.50
* Limited VIP rinkside tickets available
Group and concession discounts available on select performances
Book through Ticketek. Ph 132 849 or go to
www.ticketek.com.au
.
Enter to win tickets to
Disney On IceSM presents Mickey & Minnie's Amazing Journey
www.girl.com.au/competition-disney-on-ice-tickets-mickey-minnie.htm