Disney's newest range of Playhouse Disney DVDs!
The laughing, learning and playing continues once more with the fun-filled and adventurous new Playhouse Disney DVD releases: Mickey Mouse Clubhouse: Mickey's Treasure Hunt, Little Einsteins: Flight of the Instrument Fairies and My Friends Tigger and Pooh: Tigger and Pooh and a Musical Too.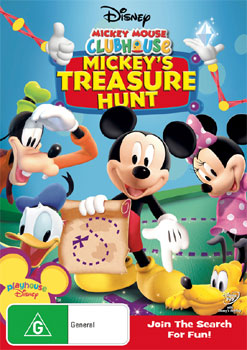 Mickey Mouse Clubhouse: Mickey's Treasure Hunt
Starring Voices: Wayne Allwine, Tony Anselmo, Bill Farmer, Tress MacNeille, Russi Taylor
Director: Rob LaDuca, Howy Parkins
Producers: Leslie Valdes, Roberts Gannaway , Bradley Bowlen
Genre: Childrens
Rated: G
Running Time: 69 mins

Map Out The Magic!

Join the search party and get set for the ultimate game of hide 'n' seek, as Mickey and his pals hunt for hidden treasure! "X" marks the spot when Pluto finds a mysterious map. Now it's up to you and the whole Clubhouse gang to follow the clues and pick the right mouseketools to locate a secret chest full of stickers, goodie bags, toy jewels and more! You'll discover that when good friends work together, problem solving is no problem at all! Sparkling with laughter, songs, and adventure, this fun-filled gem about friendship and teamwork.

Review: Great interactive learning, with friendly characters.

About the Mickey Mouse Clubhouse Range: What Your Child Can Learn:
This delightful range of Disney DVDs showcases Mickey and the Sensational Six, encompassing Mickey, Minnie, Goofy, Donald and Daisy Duck and of course Pluto! Mickey leads the gang as they work together to encourage friends and viewers to seek out solutions to everyday challenges. Children can learn about solving age-appropriate puzzles and tasks, working with numbers, and identifying shapes all while having fun with Mickey and the team!

Join the hunt with all the new Mickey Mouse Clubhouse: Mickey's Treasure Hunt, new to the Mickey Mouse Clubhouse range. Go along for the journey with Mickey, Minnie and Daisy as they set off on a treasure hunt after they find a note with clues to its location. With an assortment of crafty Mousketools, they set out to find the treasure. Will they succeed in their hunt? Will their Mouseketools help to lead the way? Come along for an adventure of a lifetime and find out!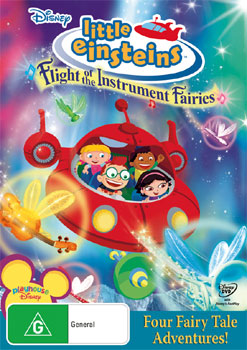 Little Einsteins: Flight Of The Instrument Fairies
Starring Voices: Erica Huang, Aiden Pompey, Jesse Schwartz, Natalia Wojcik
Director: Andy Thom
Producer: Kris Greengrove, Eric Weiner
Genre: Childrens
Rated: G
Running Time: 92 mins

Hold on tight and let fun take flight, as Rocket transports you through a dazzling rainbow sky on amazing adventures!Journey to the breathtaking Arctic wilderness where a band of Musical Instrument Fairies "paints" the sky with colourful, shimmering light. But now, the Fairies need your help! So before you can say "Up, periscope!" - Rocket transforms into a submarine and leads Quincy, Annie, June, Leo - and YOU - on a thrilling underwater quest.

And there's more magic in store as you pat, clap, sing and dance your way to exciting adventures in faraway lands. Whether you're waltzing at a grand ball in Vienna or helping Rocket foil Big Jet's latest tricky plan, Flight Of The Instrument Fairies is fairy tale-inspired fun that will light up your child's imagination!

Special Features
* Game Time: Music Mix-Up
* Bonus Episode: Handy Manny: "Time Out" / "Shine Bright

Review: Kids love Little Einsteins, full of adventure, music and interactive play. But mums & dads will also enjoy how Little Einsteins enriches the mind.

About the Little Einsteins: What Your Child Can Learn:
With the Little Einsteins range, music is the key! Providing a natural progression from the Baby Einstien range, Little Einstiens offers children colourful and adventurous learning through creatures that communicate via musical sounds and audience participation.

Little Einsteins Disney DVDs encourage greater interaction via reward and response; join the gang as they tap on their knees to make Rocket go faster or sing-along to help out! Through a combination of live action and animation, Leo, June, Quincy, Annie and Rocket invite kids to help solve problems and learn along the way.

Continuing along the musical theme, instrument fairies paint the sky with colourful rainbows and shimmering lights in Little Einsteins: Flight of the Instrument Fairies:. Children can learn from the Little Einsteins and their friends Rocket as they forge full speed ahead to rescue the tiny Violin Sprite, Viola's instrument fairy friends! They travel from the Alaskan wilderness to Vienna and Prague discovering new and exciting things about the world around them. Plus, catch three more fairy-tale inspired adventures- with a little music, singing and dancing, you can help the Little Einsteins in their quests!

As a special treat, you can get a sneak peak with a bonus episode of the latest Playhouse Disney series Handy Manny, currently being aired on the Disney Channel.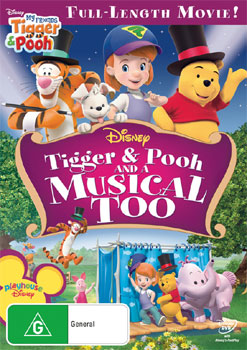 My Friends Tigger & Pooh: Tigger, Pooh And A Musical Too
Directors: David Hartmann & Don MacKinnon
Producers: Nicole Dubuc & Brian Hohlfeld
Genre: Childrens
Rated: G
Running Time: 58 mins.

Strike up the band with Pooh, Tigger, Darby and all your favourite friends in a spectacular full-length movie featuring seven original songs. It's a perfect day for a picnic, and you're invited! To thank Rabbit for planning this delightful event, his pals appoint him Mayor. But Rabbit has a lot to learn about what it takes to keep everyone in the Hundred Acre Wood one big, happy family! Join in the excitement as Pooh and the gang share laughter, surprises and the joys of friendship. Bursting with fun, beloved characters and unforgettable new music, this instant family classic is sure to be the biggest showstopper ever!

Special Features
* Rabbit's Think-Think-Think Theatre
* Kenny Loggins Music Video
* Sing-Along With The Movie
* Disney's Fast Play

Review: When rabbit throws the best picnic ever, and is presented an award it goes to his head and soon hundred acre woods is divided with everyone unhappy. But they soon learn they need each other and break down the barriers.

About the My Friends Tigger and Pooh range: What Your Child Can Learn:
The My Friends Tigger and Pooh range presents the Hundred Acre Wood crew in bright CG animation with Tigger, Pooh and the other wonderful and much-loved characters. Welcoming a new friend, 6-year-old Darby, the team joins her as they take kids on interactive adventures to solve mysteries and learn more about the amazing world that surrounds them.

Strike up the band with Pooh, Tigger, Darby and all your favourite friends in a spectacular full-length movie featuring seven original songs in Tigger and Pooh and a Musical Too. It's a perfect day for a picnic, and you're invited! To thank Rabbit for planning this delightful event, his pals appoint him Mayor. But Rabbit has a lot to learn about what It takes to keep everyone in the Hundred Acre Wood one big, happy family! Join in the excitement as Pooh and the gang share laughter, surprises and the joys of friendship.

Bursting with fun, beloved characters and unforgettable new music, this instant family classic is sure to be the biggest showstopper ever!

Embracing storytelling, engaging music, playful learning, lovable characters and great bonus features, the new range of Playhouse Disney DVDs are sure to make the perfect gift for the young, and the young at heart this April!

Genre: Family Animation
Rated: G