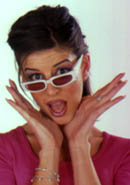 Here at GIRL, we love a good gossip session as much as the next gal does! So each month feast your eyes on the juiciest goss as our resident gossip queen DIVA gives you the inside scoop on all your fave celebs.

In the wake of the tragic death of Lisa "Left-Eye" Lopes, who was a member of the super cool group TLC, the remaining two members have expressed they have no plans whatsoever to replace Lopes. Band member Rozonda "Chilli" Thomas recently said, "You can't replace a TLC girl. The chemistry we have is something God gave us. You can't put that together."

It seems it was a case of mistaken identity recently when 'Penthouse' magazine published photos of a woman sunbathing topless on the beach and claimed it was Russian tennis beauty, Anna Kournikova. The headline read "Exclusive Anna Kournikova Caught Close Up on Nude Beach." Anna's management team has denied it is the tennis star and plans to sue the publication. Meanwhile the real topless woman has been revealed as being Judith Soltesz-Benetton, daughter-in-law of fashion designer Luciano Benetton. She will also be suing the magazine!

New Zealand actress Lucy Lawless, former star of the TV blockbuster Xena: Warrior Princess has given birth to a boy in Auckland, which she has named Judah Miro Tapert. Both mum and bub are apparently doing well.

In other baby news, it has been revealed that new Popstar Scott Cain is the father of a two-year old girl. 21 year old Scott had this to say, "She's all mine. I don't feel like I have to share her with the rest of the world just yet." Good on ya Scottie! Check out Scott Cain's wicked interview in this month's Girl.com.au!

Wacko Jacko (aka Michael Jackson) is teaming up with Aussie star Mel Gibson to produce the film "They Cage The Animals At Night". The movie will mark the directorial debut of the one-glove wonder.

Besides undergoing another name change from J.Lo back to her original name Jennifer Lopez, the Queen of Latin has plenty to smile about. She has announced plans she will star in and produce an updated version of "Carmen". The popular story follows a Spanish gypsy girl who leads men astray with her beauty and dancing and is a perfect role for the hip-swinging songstress!