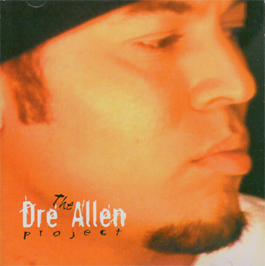 Born in California's San Francisco bay area in the mid 70's, Dre Allen is a man who was physically, sexually & emotionally abused as a child. A guy who was homeless for 8 years straight and survived. Locked up for 3 years of his life in juvenile halls, group homes, foster homes & jails. A guy who was beaten, stabbed, robbed & who's father was a pimp.

Conceived slightly before his mother went to prison, developed while his mother did a year armed robbery & abandoned at birth…and after all that…a guy who found his poetic voice enough to get off the streets, start his own record company, record and album single-handedly & spread his energy to everyone who would be inspired by his determination.

After 10 record deals that yielded no fruit due to the politics of the music industry of late, in 2002 Dre made an unlikely alliance with Pearce 'Master P' Miller while toiling through he latest of his 10 records deals with Kenneth 'Babyface' Edmonds & wife Tracy Edmonds' ERG label. Having faced scrutiny & branding as a "Black" artist with no foreseeable market due to his multi cultural appearance (half Italian & half black) as well as his more rock leaning urban influenced soul & message oriented sound, Allen decided to begin his education as the businessman.

After numerous & lengthy sessions, inquiries & discussions with his new found mentor Allen decided to take his act independent. With the money from a production deal secured with Master P, Allen started his label Movermakers Entertainment & from that day dedicated himself to cracking the codes to artistic independence.

The Dre Allen Project is an album that encompasses a man's vision of himself while obtaining the skills needed to climb the mountains he foresees himself conquering. A man who drips of survival. An inspirational real life story of someone who refused to give up on himself & become the only thing everyone would have thought he would. A lost soul. Instead Dre Allen became a lost soul who found himself while no one else was looking. With the amazing vocal talents of Dawn Robinson (En Vogue, Lucy Pearl) on his brand new single, Dre introduces himself to Australia and Inspires you to "Fly".