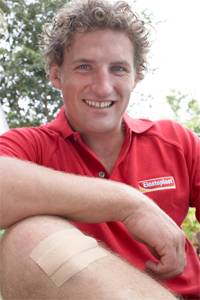 80 Australian children require medical attention for household injuries every day

Parents across the nation are being urged to child-proof their home this summer, to reduce the risk of common household accidents and injuries. The most common childhood accidents and injuries are caused from falls, burns and scalds according to Kidsafe Australia.

It is estimated that nearly 1 in 3 Australian households do not have an adequate first aid kit* which is why Elastoplast has joined with handyman and father of one Rob Palmer (from Channel Seven's Better Homes and Garden) in an important safety campaign encouraging parents to play it safe this summer and stock up on the necessary products for the home first aid kit.

Importantly, Rob says to make sure your medical supplies include basic plasters such as Elastoplast Fabric strips, which are always the first thing to disappear from his own first aid kit. "It's important for parents to take a ''kids-eye view'' and understand the potential dangers their children face when playing around the house and in the garden," said Rob.

"The warmer months see children outdoors more often and therefore the risk of injury increases", he continued. "Accidents in the home and garden can be easily avoided, and by following a few simple tips, families can ensure a safer summer," Rob concluded.


*Information from St John's Ambulance Australia, 2006
The following tips can help prevent child injury and accidents this summer:

Always keep a well stocked first aid kit, including Elastoplast Fabric Strips, in the home

Check Playground equipment to ensure it is safe for children

Sand back all surfaces to prevent cuts, grazes and splinters

Ensure lawn is mowed to prevent falls and trips

Ensure slippery surfaces are kept dry and encourage children to be cautious

When children are swimming always ensure adult supervision is provided

Ensure all gates and doors are easy to lock

Install fire and smoke alarms

Provide adequate adult supervision at all times

Keep garden equipment and tools out of reach of children

Elastoplast Fabrics come in a complete range of plasters and dressings to suit nearly all needs. The range includes Elastoplast Fabric Strip 20's (RRP $2.28), 40's (RRP $3.98), 90 +10's (RRP $8.95) and Assorted 20's (RRP $2.78).

The Fabric range also includes cut to size, convenient dressing lengths in 6 x 10cm (RRP $5.07), 8 x 10cm (RRP $6.15) and 6cm x 5m (RRP $22.40) and for those with sensitive skin a hypoallergenic variant 6 x 10cm (RRP $4.81). Stockists include selected pharmacies, Woolworths, Coles and independent retailers.


About Elastoplast/Beiersdorf
The Beiersdorf Company was founded at the end of the 19th century: In 1882, Paul Beiersdorf, who owned Hammonia-Pharmacy in Hamburg filed a first patent for the production of medical plasters. Today, the Beiersdorf AG is an internationally operating company producing and distributing a large range of leading consumer products. This includes famous brands such as Elastoplast, NIVEA, 8 ×4, Eucerin and Labello. Beiersdorf has subsidiaries worldwide and employs a total of more than 18,000 staff. The company headquarters are located in Hamburg.