Emma Watson at Selfridges for Lancôme's Rouge In Love
Love your lips.
Rouge In Love
6 hour perfect wear-addictive texture.
Everyone is waiting for it... A friend at all times, for any occasion, available in a multitude of stunning shades. An irresistible 'prêt a porter' lipstick: Rouge In Love.
High-intensity colour, a featherlight feel. Rouge in Love achieves the perfect balance: radiant shades in a surprisingly light texture. Its secret? The exclusive 'colour catching' polymer texture melts on application, leaving an essential concentrate of colour.
Lips feel smooth and soft thanks to the nourishing and repairing oils that provide hydration for up to 6 hours with striking shine. As comforting as a balm, as colourful as a lipstick, as radiant as a mirror…
An ultra-light texture for endless tailor-made looks that take you from day to night.
Rouge In Love is like a second skin that satisfies your every desire. In short: love at first sight.
Available in 21 shades: 146B, 159B, 156B, 163B, 170N, 106M, 185N, 181N, 278B, 200B, 230M, 275M, 240M, 287N, 351B, 322M, 340B, 300M, 353M, 377N, 379N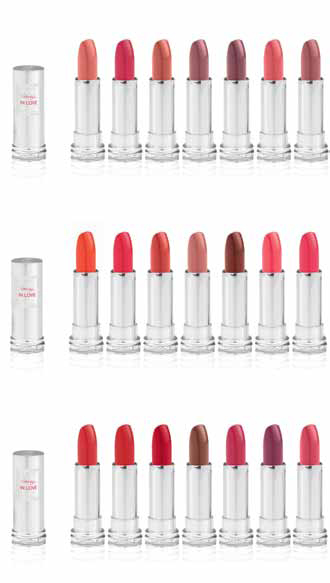 Le Vernis In Love
In 2012 Lancôme reinvents Le Vernis in Love: extra shine and trendy colours, easy to wear and playful.
Available in 10 shades: 105M, 154M, 179M, 112B, 343B, 350M, 300M, 270N, 407N,501B
Lancôme is available at Myer and David Jones stores and selected pharmacies.
Stockist: 02 9931 8888
Images: Brian Ritchie for Lancôme.