Fake Tan Application Tips
Australians are known for their sun-kissed summer tan and most of us would like to achieve the tanned look without causing any long-term damage to our skin and avoiding skin cancers. The hardest part is choosing the product and the application as you don't want to have fake-tan hands, streaks, be orange or look 'fake'.
When choosing a tan that suits you, you may find it easier to apply a lotion, or use a daily cream or even spray on your tan. It may take some time for you to decide what works best for you, but when you find what suits you, stick with it. There are a wide range of fake tan lotions, sprays, creams and gels on the market.
Types of Fake Tan
Spray:
Spray tans can be done in a salon or at home. In a salon, you are asked to exfoliate then you are sprayed by a beautician using a machine, in a booth. At home spray tans are relatively easy to use as there is no blending required, although the spray can be quite messy so do it in the backyard or in the bathroom. A spray tan is normally a honey coloured tan. If your tan normally has an orange result we suggest it is best to try a spray tan. Spray on tan only takes a couple of minutes to dry and is very easy!
Mousse:
Mousse leaves a medium sun-kissed glow; it is one of the easiest fake tans to apply. Mousse tan also only takes a couple of minutes to dry and normally doesn't make a mess.
Gel:
A fake tan gel produces the same colour tan as a mousse but it dries a lot quicker and is easy to evenly spread although with gels, you need to blend quickly and apply the tan in small areas.
Lotion:
Fake tan lotions are heavier and produce darker results than most fake tans. It is important you are careful with lotions on your knees, hands, wrists, ankles and elbows; these places are most common to the orange look because the skin is dry and the tan is absorbed a lot quicker. Tanning lotions often take about ten minutes to be completely dry.
Cream:
Fake tanning creams are similar to lotion, but are thicker because of this you do not need to use as much. Apply the fake tan cream like a moisturiser and it can take about ten minutes to be dry. You can purchase cream fake tans that wash off immediately, they are good for one use only, although you have to ensure it isn't going to rain before applying!
Gradual Tanners:
Gradual tanners slowly build up a more natural looking tan and also act as a moisturser. The colour is gradual so you can continue applying the gradual tanner, daily, until you are happy with the shade. A gradual tanner is great for a beginner as you don't need to be as careful and a gradual tan is less likely to turn your skin orange. You still need to wash you hands after each application.
Preparation and Application
Don't shave before you apply your tan as the tan can seep into your pores or irritate your skin. Shave at least a 12 hours before application, even a day if possible.
Before you apply your chosen fake tan, you need to prepare your skin. Exfoliate dry and dead skin, if you don't you will have a patchy and miss-matched tan, plus if you exfoliate your tan will last longer! To exfoliate your skin you can use a body scrub, a loofah or shower gel.
Next, wait until you are dry and then moistures dry areas; this will help prevent the skin absorbing too much tan. The main areas to moisturise are: knees, hands, wrists, ankles, elbows and the feet.
Read the instructions on the product, in general it is important not to put too much tan on to begin with. Apply the tan in small sections; you could start by blending your legs then working upwards. You need to work upwards so you do not get creases on your upper body when you bend over.
To blend you need to gently and evenly rub in the product in a swirling direction rather than rubbing the tan up and down. Before applying more tan, the first coat needs to be dry.
Always ask for help with your back, if you can't reach and you have no one to help use a sponge paint roller; as funny as it sounds it does work, remember to be slow and steady.
Don't worry if you go over the same spot twice, it won't make a major difference, if you miss a spot though, it will make a difference!
Don't apply body tan to your face; it will make your face very dark, patchy and oily. If you'd like to fake tan your face, choose a specific face tanner. Tie your hair up and apply Vaseline to your lips, hairline and eyebrows prior to applying the tan, otherwise you may end up with orange eyebrows! Don't apply moisturiser before face tan as it may interfere with the product and don't forget your earlobes and ears!
As soon as you have finished applying the tan wash or scrub your hands with soap and warm water or use a fake-tan remover, this will help you avoid orange hands. To avoid orange fingernails you may need to wear gloves or apply baby oil to your fingertips.
Don't walk around, sit down or try on clothes until the tan is dry and do your tan first so you can wear loose clothing for a few hours before going out, showering or exercising. Streaking occurs when you get wet too soon after applying the tan. It is also important that you don't wear white for a few hours after the tan as fake tan will stain fabrics.
If you are happy with your tan there are a few things you can do to prolong the tan. If you used a cream tan, you can continue to apply your tan, every day or every couple of days. If you used a different type of tan you should mositurise every day or pick up a fake tan prolonger. A fake tan often lasts three days before it begins to fade.
If you want to get rid of the tan, use a loofah, exfoliate or purchase a tan remover. If you've let your tan start to wear off it is best to remove most of the tan before reapplying.
Oh no! I've messed up.
If you do make a mistake, you can start again by exfoliating the area or using a tan remover. If you have any patchy parts, exfoliates and then reapply the tan.
Playboy Glitz Sunless Self Tanner Spray -
www.girl.com.au/glitz-sunless-self-tanner-spray.htm
***** Editors Pick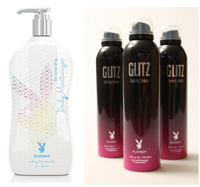 Glitz Spray Tan
Easy to apply, Glitz tanning spray leaves your skin with a soft, golden glow instantly while developing into a deeper, darker tan within 2-4 hours that lasts up to seven days.
This unique formula will not interfere with natural or sun bed tanning and works great for touch ups after salon spray applications.