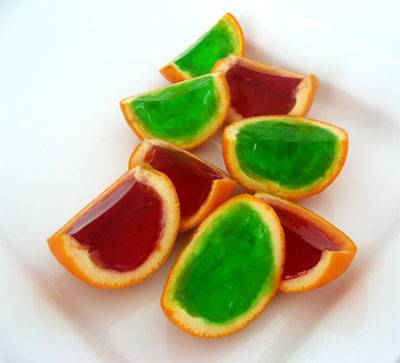 Fizzy Jelly Orange Grins
Wizz Fizz is the perfect and easy treat for children's parties! I iconic sherbet 'fizz that makes you wizz' have created some great party ideas for the budget-conscious parent. Gross up the party with some zany Wizz Fizz recipes or play Wizz Fizz dress-ups! You can even download the colourful Wizz Fizz monster mask from the Wizz Fizz website for free!

Ingredients

Serves 8
2 large oranges
2 cups of boiling water
2 cups of cold water
1 packet of strawberry or lime flavoured jelly crystals
1 Original Wizz Fizz sachet

Method
1. Cut oranges in half and scoop out the orange pulp to create four orange peel cups.
2. Stir boiling water and jelly mix in a bowl until dissolved.
3. Add the packet of Original Wizz Fizz along with cold water and stir until dissolved.
4. Pour mixture into the orange cups and refrigerate for three hours or until firm enough to eat.
5. Once the jelly has firmed, cut orange cups in half again to create eight Fizzy Jelly Orange Grins!



Also great as a summer treat these school holidays.