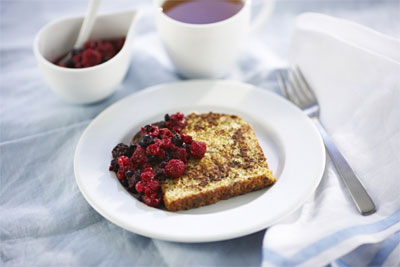 French Toast with Mixed Berries
Go for 4+ serves of grain-based foods each day

According to official dietary guidelines, a healthy diet should contain at least four serves of 'breads and cereals' each day. The breads and cereals category also includes other grain-based foods such as pasta, rice, noodles and cous cous.

One serve is equal to two slices of bread, around one cup of flaked breakfast cereal or a cup of cooked rice or pasta. It's important that mum and your family aim for 4+ serves of grain-based foods each day as grain foods contain a wide range of essential nutrients including carbohydrate, fibre, protein, vitamins and minerals, and they are also low in fat.

Wholegrains in particular pack a punch and are a more powerful source of all these essential nutrients. Research has shown that eating a diet containing wholegrains can help protect against a number of chronic diseases, such as heart disease and diabetes.

So yourself or someone special with these delicious grain-based recipes on her special day and you'll keep her healthy as well.

Ingredients
100g mixed berries (fresh or frozen)
1 egg
½ cup soy milk
2 slices of Bürgen Oatbran & Honey Bread

Optional:
1 tablespoon maple syrup or honey
50g low fat natural yogurt
Sprinkle with LSA Mix (Linseed, Sunflower Seeds and Almond Meal)

Method:
1. Cook berries in a saucepan over low heat until the berries are warm and soft
2. In a flat dish whisk the egg and milk together until well combined. Add the bread to the dish and cover bread with egg mixture
3. Heat a non-stick fry pan over medium heat and dry fry the bread for 2-3 minutes on each side or until golden brown. Serve topped with berries
Optional: Drizzle maple syrup or honey on top and natural yogurt, and sprinkle with LSA mix.