Geoffrey Roy Rush Profile & Interviews
Geoffrey Roy Rush (born 6 July 1951) is an Academy Award- and Emmy Award-winning Australian actor. He is the first Australian-born person to win an Academy Award for acting.

Early life
Rush was born in Toowoomba, Queensland, Australia, the son of Merle (née Kiehne), a department store sales clerk, and Roy Baden Rush, an accountant for the Australian Air Force.[1][2] His parents divorced when he was five, and his mother subsequently took him to live with her parents in the suburbs.[3] Before he began his acting career, he attended Everton Park State High School. He began his acting career with the Queensland Theatre Company in Brisbane. In 1975, Rush took off for Paris for a couple of years, and studied mime and pantomime at the famous Jacques Le Coq School Of Mime, then returned to Australia to resume his stage career. He also has an Arts Degree from the University of Queensland. While at university, he roomed with fellow Australian actor Mel Gibson.

Stage career
Rush has appeared on stage for Company B, and for the Queensland Theatre Company and the Brisbane Arts Theatre, as well as in many other theatre venues, and has worked as a theatre director.

Geoffrey Rush also appeared in the William Shakespeare plays, The Winter's Tale with the South Australia Theatre Company in 1987 (at The Playhouse in Adelaide, South Australia), and in Troilus and Cressida (at the Old Museum Building in 1989). He also appeared in an on-going production of The Importance of Being Earnest as John Worthing.

In September 1998, Rush played the title role in the Beaumarchais play "The Marriage of Figaro" for the Queensland Theatre Company. This was the opening production of the Optus Playhouse, at the Queensland Performing Arts Centre at South Bank in Brisbane. A pun on Geoffrey Rush's name (and the circumstances), was used in the opening prologue of the play with the comment that the "Optus Playhouse was opening with a Rush".

In 2007, he starred as King Berenger in a production of Eugene Ionesco's Exit the King at the Malthouse Theatre in Melbourne and Company B in Sydney, directed by Neil Armfield.

Film career
Rush's film debut was in the Australian film Hoodwink in 1981. His next film was in Gillian Armstrong's Starstruck, the following year. In 1996, he starred in Shine, for which he won the Academy Award for Best Actor, becoming the first Australian actor to win an Oscar. From that point on, his career skyrocketed.

In 1998, he appeared in three major films: Les Misérables, in which he played Inspector Javert; Elizabeth, in which he played the suspicious Sir Francis Walsingham; and Shakespeare in Love in which he played the acting company manager who remained calm in the midst of chaos (and received an Academy Award nomination for Best Supporting Actor). In 1999, Rush departured from his usual dramatic stint and took the lead role as Steven Price in the horror flick House on Haunted Hill. Many fans praised Rush for his dead on portrayal of the late Vincent Price. In 2000, he received his third Academy Award nomination, for Quills, in which he played the Marquis de Sade.

Rush's career continued at a fast pace, with nine films released from 2001 through 2003. He starred in the movie Pirates of the Caribbean: The Curse of the Black Pearl, as Captain Hector Barbossa, also appearing in its sequel, Pirates of the Caribbean: Dead Man's Chest, and has reprised his role in the third title. Rush reprised his character's voice for the enhancements at the Pirates of the Caribbean attractions at Disneyland and the Magic Kingdom theme parks, which involved an Audio-Animatronic with Rush's likeness being installed. He also voiced Nigel the pelican in Finding Nemo.

Rush played actor Peter Sellers in The Life and Death of Peter Sellers. For this performance, he won an Emmy Award for Best Actor in a Mini-series or Movie. In 2005, he starred in Steven Spielberg's film Munich as Ephraim, a cold Mossad officer. In 2006, Rush hosted the Australian Film Institute Awards for the Nine Network.

Personal life
Rush lives in Camberwell, a suburb of Melbourne, Victoria, Australia. He has become involved in the preservation of heritage and architecture, becoming a figurehead for a campaign for the preservation of Camberwell Railway Station from demolition by developers and championing a National Trust of Australia (Victoria) poll for the Victorian Heritage Icons Awards.

Since 1988, Rush has been married to Jane Menelaus, with whom he has a daughter, Angelica (b. 1992) and a son, James (b. 1995).

Source: http://en.wikipedia.org/wiki/Geoffrey_Rush


10 years after winning his coveted Oscar, Geoffrey Rush returns to where his international movie career took off, returning to the Machiavellian world of Elizabethan politics in The Golden Age. Much has clearly changed for this Aussie actor who can drift from a Pirates blockbuster to an Ionesco play in his native Australia,
More...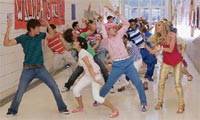 Lucas Grabeel, Corbin Bleu and Ashley Tisdale spill their on-set secrets from High School Musical 2
More...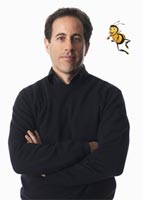 It would be fair to say that Jerry Seinfeld, multi-millionaire, stand up comic and iconic TV star, has finally discovered his inner bee. Dressed in a dark suit, the creator of the now classic TV series Seinfeld, has ventured into movies, as co-writer, co-producer and lead voice of Bee Movie.
More...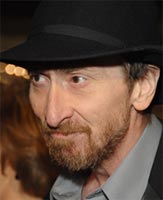 On a near brand new sound stage not too far from the Albuquerque soundstage, writer/director Frank Miller is shooting his solo directorial debut, The Spirit. With his trademark hat, the often droll, but secretive artist and director, was shooting a scene with the filmÂ's star, Gabriel Macht, on stage 7 as he took a break to discuss The Spirit, not due out for over a year.
More...
If you're Daniel Craig it helps to have a sense of humour. Dressed in a tailor made suit and tie, it was a smiling Daniel Craig who turned up in a London hotel room to talk about his role in the big-budget fantasy epic The Golden Compass. But these days he is best known worldwide as one James Bond, and clearly finds the fame associated with the iconic character, somewhat bemusing.
More...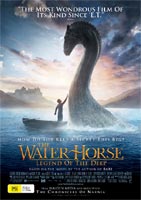 The Waterhorse: Legend of the Deep. Rooted in one of the most enduring and intriguing legends of our time, the story begins with an enchanted egg...and what hatches sets in motion an adventure that takes a young boy on an unforgettable journey of a lifetime
More...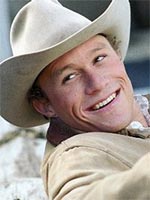 Heath Ledger, our beloved Australian actor died of an overdose on January 22. Those who barely knew him will write much about Heath Ledger and there will be endless speculation over his tragic passing, but at the end of the day, he was an audacious talent, a smart human being with a zest for life and a passion for his craft. He was a doting father....
More...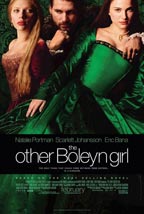 Eric Bana is the first to admit that he was surprised when he was offered the part of King Henry VIII in The Other Boleyn Girl. Based on the acclaimed novel, the film explores the rivalry between sisters Anne (Natalie Portman) and Mary Boleyn (Scarlett Johansson) and the former's ultimate ascension and tragic downfall.
More...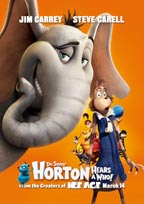 Jim Carrey is in his element, relaxed in a t-shirt and jeans promoting his latest film, Horton Hears a Who. Voicing Horton the elephant in the film adaptation of the Dr Seuss children's classic, Horton Hears a Who, which is receiving early enthusiasm from kids and adults alike. Jim Carrey agrees that Seuss transcends age and demographics, and is clearly impassioned about the messages that Seuss delivers to his readers.
More...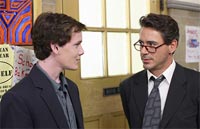 Among the classic high-school rebels of American movies, there have been truants, delinquents, pranksters and con artists - but there has never been anyone quite like Charlie Bartlett. An optimist, a truth-teller and a fearless schemer, when Charlie slyly positions himself as his new schoolÂ's resident -psychiatrist,' dishing out both honest advice and powerful prescriptions, he has no idea the ways in which he will transform his classmates, the school principal and the potential of his own life.
More...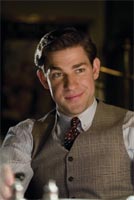 John Krasinski is best known for his role as sardonic nice guy Jim Halpert on the popular TV series "The Office". In his latest film, Leatherheads, John Krasinsky stars opposite screen veterans George Clooney and Renee Zellweger as a war hero from the First World War turned football star in the mid-20s at a time when football was played fearlessly and without rules.
More...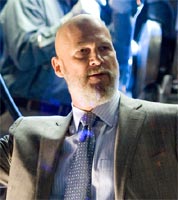 Jeff Bridges is selective about what films he takes on these days, so whether he plays an amateur porn producer in the Capraesque Indie comedy, The Amateurs, or a bald headed comic book character in next summerÂ's Iron Man, Jeff Bridges remains one of the screenÂ's most enduring stars.
More...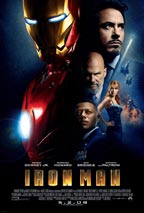 Jon Favreau, the director's biggest film to date, the big-budget adaptation of Iron Man, the story of weapons manufacturer and billionaire Tony Stark who creates the iconic robotic creature while being held prisoner in Afghanistan.
More...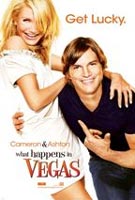 Ashton Kutcher is a busy man these days. Now husband, stepfather, TV producer and occasional movie star, in his latest movie, What Happens in Vegas, Kutcher plays an irresponsible slob whose accidental marriage to a drunk Cameron Diaz leads to complications when he wins big in a Vegas slot machine
More...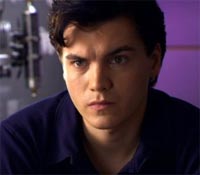 It's been quite the career for Emile Hirsch, first working with Sean Penn and now with the iconic but highly reclusive Wachowski Brothers in new movie Speed Racer.
More...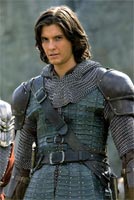 Ben Barnes The Chronicles of Narnia: Prince Caspian Interview; C.S. Lewis's timeless fantasy come to life once again...the Pevensie siblings are magically transported back from England to the world of Narnia, where a thrilling, perilous new adventure and an even greater test of their faith and courage awaits them.
More...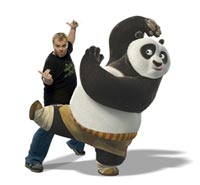 That zany Jack Black gets animated as he takes on a reluctantly heroic panda in the new animated feature, Kung Fu Panda. From his hilarious stint on American Idol, to a slew of successive films, Jack Black is as busy as ever, fitting in fatherhood and a perpetually frenetic career
More...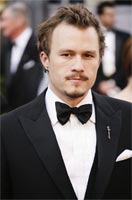 July 14 sees the world premiere in New York of 'The Dark Knight'; Heath Ledger's final masterpiece. In recognition of his great work, E! Entertainment Television will premiere Heath Ledger: The E! True Hollywood Story an in-depth look at the life and career of this talented and charismatic actor, and look at the truth behind the actor's untimely death.
More...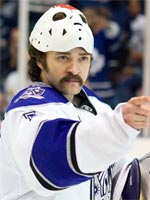 Justin Timberlake may be one of music's bigger stars, but as we chat in a Beverly Hills hotel room where he is busy promoting his comic turn in Mike Myers' farcical Love Guru, it is clear that there resides a certain quiet normalcy about the singer/actor.
More...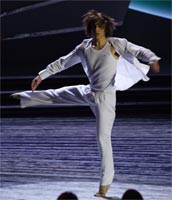 Caleb Bartolo received his first shot at the limelight when he auditioned for the popular Network TEN show So You Think You Can Dance Australia.
More...
---