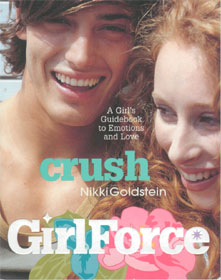 A Girl's Guidebook to Emotions and Love.

Listen up. You're about to get a whole lot wiser about the opposite sex. Crush gives you all the guy smarts you'll ever need to decode your latest hottie and work out when you're ready to date. Crush shows you how to trust in a power source called GirlForce, your ticket to guy-proof confidence.


Want the latest on secret boy's biz? Boyd Types are the answer. Work out the Body Type of your latest object of desire - Air, Fire or Earth - and discover the juice on his moods and motivations.

Get the know-how on converting your crush into a real-life relationship.

Discover where you're at in your love evolution and become totally boy-wise.

GirlForce is self-awareness, acceptance and chilling out. It is also about tuning in and getting the lowdown on self-knowledge. Crush shows you how to use this feel-fab power within to get you through the highs and lows of your love life.

Author: Nikki Goldstein

Review:
What's your romance style and what' s his, find out with this helpful handbook that will help you convert a crush into a real relationship.