Check out the new range by Glamourflage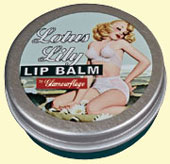 Lotus Lily Lip Balm
Flavour: Tangerine
Size: 20 ml
A bevy of natural oils, including beeswax and lanolin soften, soothe and moisturise while vitamin E works at rebuilding any damage done by particularly passionate encounters. We wouldn't be seen dead kissing without it.
Who is she?... Lily swears, sleeps naked and likes Star Wars - no, moderation was never one of her virtues - in fact sometimes she could be so bad that you wonder whether her mother should have thrown her away and kept the stork. While some would call her kooky, Lil thinks of herself as merely 'challenged' where normality is concerned. She feels no need to play games or hide her feelings, while she may fancy the hell out of you, this isn't a license to mess her around.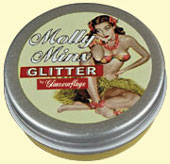 Molly Minx Glitter Gel
Fragrance: Freesia
Size: 20 ml
If you want to make an entrance look no further - radiate your own special brand of glamour with this sparkle gel. Pop it in your purse and transform yourself from day to night attire with a mere dab of magic.
Who is she?... Fast and furious, long and leisurely - or at a more seductive steady pace -Molly grasps life by the vitals. She has no game plan for poor is the woman whose pleasure depends on the permission of another. Whilst she claims she can open bottles with her teeth and eat fiery chillies raw - we take this with a good-sized Siberian salt mine. There is no keeping up with her as she four-wheel drives ahead without stopping for road-kill. She's all singing, all dancing and all woman.
Scarlett Divine Bath Dust
Fragrance: Frangipani
Size: 235 g
Cleopatra started it and who are we to argue - there is nothing like an exotic, silky milk bath after a hard day's seduction even if ours is not of ass derivative!
Who is she?... Some girls were born organically good - Scarlett wasn't. Her abiding philosophy is to never say how old she is and always turn up in a helicopter. She is proud of her femininity - one thing she does exceptionally well is pour her curves into a tight dress. It works every time. She adores her love of conquest - throwing her heart out in front of her and running ahead to catch it. No, it isn't tying herself down to one person that she dreads; it's separating herself from all the others.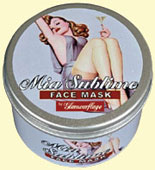 Mia Sublime Face Mask
Fragrance: Freesia
Size: 120 ml
Purified by clay, conditioned by macadamia nut oil, moisturised by shea butter and toned by witch hazel - we're in pamper heaven. Go on - put your feet up, slip into something a little more comfortable and surrender to the delights of Mia.
Who is she?... Not the shy and retiring type is our Mia. Her devil-may-care attitude has a strange tendency to get herself into scrapes that her charms (which have nothing to do with perky boobs and everything to do with attitude) are hard-pushed to extricate her from. 'Still', she says 'she who doesn't take risks, never gets to drink champagne'. She stopped believing in Santa Claus when she was six - her mother took her to see him in a department store and he asked her for her autograph. Having matured since then and emerged relatively unscathed from dalliances with several likely suitors, Mia is not about to plunge head first into another - she's busy painting the town all shades of purple - a life free seems to be beckoning.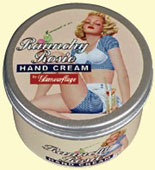 Raunchy Rosie Hand Cream
Fragrance: Freesia
Size: 120 ml
Packed full of vitamin E - a classic for repairing any damages life may inflict. Underpinned by a good dash of aloe vera - what can we say, its miraculous qualities are legendary. If you don't emerge from using this product as a screen siren then we'll burn our sauciest undergarments.
Who is she?... Love is in the air - or is it Rosie's perfume? When she gives you that look - you know you're in for a treat. While most of us are hard-wired to hide our vulnerability, she revels in her own demons. It would be an understatement of criminal proportions to say Rosie embraces life: trying everything from private investigator to amateur surfing, resting only (on luxurious laurels) to momentarily whisper "If in doubt: pout" and dismiss all else as "details".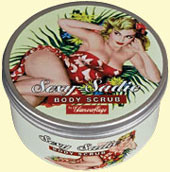 Sexy Sadie Body Scrub
Fragrance: Freesia
Size: 250 ml
Emerge transformed, buffed and polished revelling in the anti-inflammatory, exfoliant and purifying qualities of walnut while being gently toned and soothed by aloe and vitamin E. Goddesses swear by it so why not succumb yourself?
Who is she?... Sadie, with her penchant for camelias, has a propensity to wear them for all social occasions along with whatever other lacy thrift-shop gear she can get her hands on. She has a tiny strawberry- shaped mole perched on her upper lip which trembles with a mesmeric rhythm whenever she is amused while her lips remain permanently on the edge of an extremely naughty smile. Whatever her skin is made of it looks like it would taste good. She has successfully got by under the philosophy that 'What the hell' is always the right decision so why change now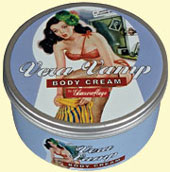 Vera Vamp Body Cream
Fragrance: Freesia
Size: 250 ml
The moisturising and skin conditioning effects of macadamia nut oil combined with the soothing caress of aloe vera is topped with the anti-oxidant qualities of vitamin E - we can't get enough of it and neither it seems can our suitors!
Who is she?... The first thing you notice when you meet Vera is that she has the most shapely legs this side of christendom. It hardly seems right for one person to be blessed with this quality - still if life was fair Elvis would be alive and all the impersonators would be dead. Having changed her name from a somewhat dreary title reminiscent of matronly endeavours (though this was where the resemblance ended) she spends an inordinate amount of time dreaming. A die-hard fan of Mills and Boon she harbours a secret desire to be a classical musician - but meantime keeps her day job (though she has invested in a crimson custom-made drum kit).
All these products are now available through Girl.com.au
here